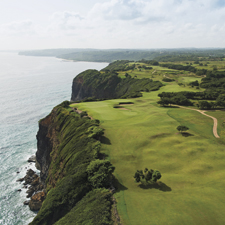 The 12th and 14th holes of Royal Isabela hover above the Atlantic Ocean on the northwest corner of Puerto Rico, and meet at a dramatic double green.
Puerto Rico's Rising
With Royal Isabela and the revamped Dorado Beach open for play, the island has joined the Caribbean's top golf destinations
(continued from page 2)
Now the old hotel is gone, replaced in almost the same configuration by the Ritz-Carlton Reserve. It's a collection of two-story hotel buildings (just as Rockefeller had done) along with condominiums and private villas. Marble, limestone, wood, lush fabrics and original art and sculpture define the $342 million renaissance of this legendary resort.
"We spent a whole lot of time trying to figure out how not to screw this up," says Michael Lefkowitz, a principal in the Caribbean Property Group. "Our CEO Mark Lipschutz, his father Herb owned the Madison Deli in New York and went to Dorado Beach every year. Barry Breeman, a partner, Mark and I all have a love affair with Dorado Beach."
When the Pritzker family behind Hyatt wanted to sell the Dorado Beach property, CPG was more than happy to step in along with the Stubbe Organization of Puerto Rico that had developed a lot of Dorado East. The timing couldn't have been worse, but CPG and Stubbe couldn't have been more determined.
"We were closing the deal in December of 2007, just when the world started falling apart financially," says Lefkowitz. "They expected us to back out, or renegotiate, but we went through with the deal exactly as we said we would.
"Looking at Dorado Beach, we viewed it as we aren't the smartest people in the world, but Laurance Rockefeller had the chance to buy any piece of property he wanted to in Puerto Rico and he chose Dorado Beach. There is no more perfect canvas to paint your vision on than Dorado."
Out of this deal will come Puerto Rico's most opulent resort. With nightly rates starting at around $1,600, CPG is banking on the Ritz reputation for quality and Dorado's rich history of attracting the well-heeled from both near and far. To fulfill the vision inspired by Rockefeller, CPG brought in SB Architects, a firm that has designed several iconic properties worldwide, and widely known landscape architect Bill Bensley. The only original structure that remains is Su Casa, once the home of an heiress, that has been remodeled into a four-bedroom hacienda that will rent for a cool $30,000 a night. Renowned Spanish chef José Andrés will oversee the dining at Mi Casa.
"The question we keep asking ourselves is how do we bring the dream of Dorado Beach back to life," says Lefkowitz. "We have honored [Rockefeller's] legacy. He wouldn't build anything taller than the palm trees, and we aren't either. We are putting our buildings on the same footprints his were on. We have brought in a team of architects and designers who are second to none. We are standing on the shoulders of a giant."
Honoring the tradition of the resort's golf courses (which include the two at the old Cerromar Beach property), CPG brought in Robert Trent Jones Jr. to oversee the refurbishment and updating of Dorado's East Course, a lovely layout that always defined the tropical splendor of the game. The par 5 fourth hole, the "Z Hole," is a double-dogleg beauty that that zigzags out to the ocean and lives in the memory from the first time you play it.
"Dorado Beach has been the flagship of Puerto Rican golf," says Jones Jr. "My job was to polish the diamond that was my father's work. I did everything I could to put my mind into his mentality there. The East Course is his work at the height of his career. Dorado is a straightforward lovely golf course.
"We lengthened it as he would have done himself. We removed trees to open up the views. We removed a lot of vegetation. We put in better drainage. There are some new bunkers and shapes. His bunkers were up in the air for better drainage in that situation where you are at sea level. We restored some of those that had been knocked down and went back to the original elevations. I believe the course is now what he would have wanted in the 21st Century."
You must be logged in to post a comment.
Log In If You're Already Registered At Cigar Aficionado Online