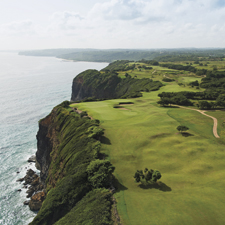 The 12th and 14th holes of Royal Isabela hover above the Atlantic Ocean on the northwest corner of Puerto Rico, and meet at a dramatic double green.
Puerto Rico's Rising
With Royal Isabela and the revamped Dorado Beach open for play, the island has joined the Caribbean's top golf destinations
(continued from page 1)
When Stan, himself a successful businessman, became involved in his brother's project in the mid '90s, they spent days walking the property looking for golf holes, often carrying clubs and balls to launch shots down imaginary fairways and at imaginary greens. This would not just be a course they owned. It would be their creation.
"We would hit shots and walk them off, hit more and try to find holes, and we'd argue about which way a hole should play or where the green should be," says Charlie. "But we were always on the same page as to the quality of the course we wanted to build."
"If we were going to do this, then it would have to be first-class, and we knew we had the land and the means to do it," says Stan. The brothers had very specific ideas for a course, but they weren't architects. They needed someone who knew how to build a course and someone who could tell them what they could do, and what they couldn't. Charlie had come to know an associate of Pete Dye, David Pfaff, through his resort development dealings in California. Pfaff had worked on the Teeth of the Dog.
"It's a remarkable piece of property these guys have put together," says Pfaff.
What Pfaff has rendered of the Pasarells' dreams is a front nine played through heaving land forms that play away from the ocean, then an intriguing journey to the cliffs above the churning Atlantic where five of the back nine holes play, culminating in the course's most dramatic offering, the Hail Mary par 3 17th. Playing over a gorge to a pinky finger of land with a green that seems hardly larger than a pool table, you either hit it or pay the consequences. A good score at Isabela will often depend on a player's fate at this hole, but you get some breathtaking views to assuage the loss of your second or third balls.
"Everybody agreed that was a hole that had to be built," says Charlie. "The first time we saw it, we knew it was going to be part of our course. It's a scary hole, but it's a really memorable one."
At the end of this breathtaking run of holes is La Casa, the main dining, drinking and gathering spot where a few cold cervezas are in order at the open-air bar after a round. Each of the casitas at the resort is a spacious private retreat built with soothing tropical woods, outfitted in comfortable fabrics and accented by individual plunge pools on the deck that have views of the Atlantic.
It's open to the public now, but Royal Isabela is meant to be a private club. "We thought all along that this course would be our private club," says Stan. "We have sold about 35 memberships and there are 29 home sites and we have sold four of them. We have tried to make this very attractive to the person who would like to be a club member, and perhaps some of those persons would also like to become investors here as well."
If the Pasarells can make the business plan work, there might be up to five golf courses here, which in the future would include one of the most special nine-hole stretches in the world. Stan is more than happy to chauffeur a visitor to a beachfront site, hard against the Atlantic, where he shows you the holes that play along the beach and through the meadows. "You see this par 5 here, don't you?" he gestures from the wheel of his SUV. And you surely do, with its green site ending at the beach. "Here we have a par 4 and a par 3 in the dunes. Don't you think they will be great?" The only answer is yes.
"We want to develop hotels, casinos, more public golf facilities and low density housing," says Charlie. "Royal Isabela is intended to attract the very high-end market. The other development here will be more public, you could say. We have a long way to go, and this will be our lifetime work here. You know, we are also following in the footsteps of Mr. Rockefeller at Dorado. The new Ritz at Dorado is a great thing for Puerto Rico."
Rockefeller's footsteps at Dorado Beach left an indelible impression for several decades. Elizabeth Taylor and President Dwight D. Eisenhower were among the headliner guests. The hotel attracted a devoted golf following that was charmed and challenged by what Trent Jones had wrought.
You must be logged in to post a comment.
Log In If You're Already Registered At Cigar Aficionado Online