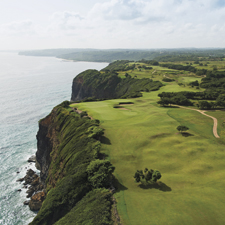 The 12th and 14th holes of Royal Isabela hover above the Atlantic Ocean on the northwest corner of Puerto Rico, and meet at a dramatic double green.
Puerto Rico's Rising
With Royal Isabela and the revamped Dorado Beach open for play, the island has joined the Caribbean's top golf destinations
More than two decades ago, Charlie Pasarell climbed into a helicopter with two friends to explore the coastline of his native Puerto Rico. Pasarell, a successful professional tennis player, tennis promoter and businessman, wasn't looking for tennis courts. He was looking for a golf course, the one he had in his dreams.
About 70 miles west of San Juan on the northwest corner of the island near the town of Isabela, he saw below him an expanse of dramatic cliffs book-ended by beaches that were rumpled with dunes. He just had to take a look, up close and personal.
The helicopter landed in a field and Pasarell walked around, a bit awestruck about a landscape that he knew little about in his own country. "We saw these cliffs here in Isabela and said let's put down here," says Pasarell. "I thought this was really some place to build a golf course."
Twenty years later, he did.
Charlie Pasarell, along with his brother Stan, brought Royal Isabela to life in 2010. The 18-hole golf course, and a small inn of 20 casitas that opened in 2012, is the newest gleaming jewel in the tiara of Puerto Rican golf. Taken along with the reinvention of the iconic Dorado Beach resort that reopened as the plush Ritz-Carlton Reserve in December, and the St. Regis Bahia Beach resort that opened in 2010, Puerto Rico is establishing itself as an exhilarating international golf destination. It's a country that has always had a fine golf pedigree, but now one that contends strongly for best in show in the Caribbean.
"We want Puerto Rico once and for all to get the reputation as a great, world-class golf destination," says Charlie Pasarell. "Dorado had that sort of reputation and will have it again. Royal Isabela will have it, too. From the beginning we wanted a world-class course."
Dorado Beach, founded in 1958 as a RockResort by Laurance Rockefeller, was long the symbol of casual resort elegance in Puerto Rico and the island's beacon for golf. The four Robert Trent Jones golf courses were top-notch, with the East Course at Dorado the finest course in the Caribbean until it was challenged by Pete Dye's Teeth of the Dog at Casa de Campo in the Dominican Republic. Puerto Rico had other courses of note, and, unlike the whole of the Caribbean, a significant golfing population.
Puerto Rico's golf glow dimmed when Hyatt, which had operated the Dorado property long after RockResorts had sold it, pulled out. Now, the light is back on island wide, and brighter than ever. The St. Regis Bahia Beach was the first step, Royal Isabela the second and now the Ritz-Carlton Reserve, a partnership of the Caribbean Property Group in New York and the local family-owned Stubbe Organization, completes the Triple Crown.
Standing on the double green of the 12th and 14th holes at Royal Isabela, it's easy to imagine Charlie Pasarell's sense of wonder that day in 1989, and to sense his passion to build his dream golf course here. It took him years to assemble more than 40 parcels of land with various partners, and the whole project, known as Costa Isabela, is comprised of nearly 2,000 acres. The golf course, at 426 acres, sprawls across its landscape, first headed inland over some dynamic terrain, then making its way north to the cliffs.
Pasarell was a top tennis player as a junior and as a professional, winning the U.S. National Indoors title twice in the 1960s and reaching the No. 1 ranking among American players. After his career ended, he became a tennis promoter and commentator, and a businessman involved in resort developments in California that had tennis facilities. But these developments also had golf, and Pasarell became enamored with the game. So, too, did his tennis-playing brother Stan.
You must be logged in to post a comment.
Log In If You're Already Registered At Cigar Aficionado Online