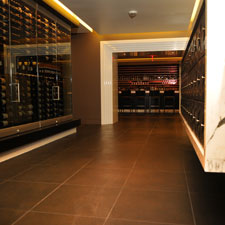 Private lockers and a great wine and spirits selection highlight Civil Cigar Lounge.
Civil Cigar Lounge, Washington D.C.
A Washington Monument for the Cigar Lover
(continued from page 1)
On the night I visited with friends, we sat at a table that has a wooden top like that of a humidor. We started with a selection of hams, mostly local offerings, and a cheese plate, both superb with a crunchy French bread and various mustards. Next came a yellowfin tuna tartare, served with a little soy, avocado and rice crackers. Nice, but be careful with this if you're already smoking. You might find it a little mild.
Three pizzas then came out, a bit undercooked for my taste, though two were nicely topped. One was a sausage and rapini pie, the other a margherita. The third pizza, with sliced meatball or meatloaf and slices of potato, apparently has not made the final menu. Good call. The tagliatelle (what they call fettuccine in northern Italy) with a lamb ragu was easily the best dish of the night, but maybe not something you want to tackle on a cigar-filled night.
The current menu's large plates, I think, better represent the kind of food we big eaters like: a burger, roasted chicken and steak.
"The menu will evolve, explained co-owner Anderson. "Bryan's menu is still a work in progress at the restaurant and we are really happy to be able to have Range be our kitchen."
In truth, Civil is itself an evolution. Anderson, for example, explained that he hopes soon the cigars on the menu will be offered from a sort of dessert cart where the individual smokes will be physically present rather than just names on a menu so that a guest can see and touch just what he or she is choosing.
What will not change at Civil is the fact that this is a place for cigar lovers. Civil is an elegant and thoughtful homage to the leaf and to all of us who respect the craft and enjoy cigars. The owners of Civil have long respected their customers and now they've been able to build a Washington monument to them.
Civil Cigar Lounge
5335 Wisconsin Avenue, NW
Washington D.C. 20015
202.364.0800
www.civillounge.com

Civil Retail Hours
Sunday 12 p.m.-6 p.m
Monday-Saturday 10 a.m.-6 p.m.
Civil Lounge Hours
Sunday-Thursday 4 p.m.-2 a.m.
Friday & Saturday 4 p.m.-3 a.m.
The lounge has WiFi
Lockers: 125 of them for $1,000 a year
Comments
2 comment(s)
John Gazerro — East Greenwich, RI, USA, — January 22, 2013 4:28pm ET
---
The Nando Group LLC — April 4, 2014 5:46pm ET
---
You must be logged in to post a comment.
Log In If You're Already Registered At Cigar Aficionado Online