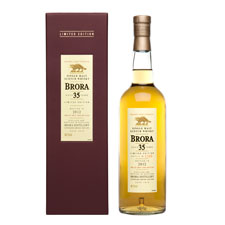 Only 1,566 bottles of the Brora 35 year old were produced.
First Taste of Rare, Classic Malts Selection Special Releases 2012 Whiskies
(continued from page 1)
Lagavulin 12 Year Old (112.2 proof, 56.1 percent alcohol by volume, $111)
As with many of the Islay distilleries Lagavulin sits right by the sea on the little bay for which it is named—and you'll be sure to taste that effect. This whisky is the 11th in a series of special 12-year-old releases and spent its life in American oak barrels.
APPEARANCE: Very light color with the slightest lime or Champagne hue. Its legs are excruciatingly slow.
NOSE: The first sensation is, of course, peat and salt spray. Then the smoke gets toasty with caramel and vanilla.
PALATE: On the tongue, it continues its toasty charms. While salty, it possesses no forbidding iodine or oils. Chocolate, nuts and red berries join in, like a fruitcake you actually want to eat.
FINISH: The end is where you get a reminder of this Islay's smoky, peaty pedigree. It's lengthy, with toasty charms.
Lagavulin 21 Year Old 1991 (104 proof, 52 percent alcohol by volume, $624)
This is the second 21-year-old ever bottled by the distillery that dates to 1816. Ex-Sherry casks had the honor of holding the whisky through its maturation.
APPEARANCE: Dark amber with slight copperish green hue. Slow, medium-width legs.
NOSE: With very little of the peat of the younger Lagavulin, it still manages a big toasty, bready aroma that is enticing. Then come meaty fruits and a bit of hard candy.
PALATE: In the mouth it is such a seamless mix of sweet and savory it is hard to tell which comes first and where one starts and the other ends. Lots of caramel, nougat, toffee and cocoa, with pleasantly charred edges. A bit like a Heath Bar.
FINISH: A long sweet finish and at the end a snap of that iodine-y sea spray that had been hiding out.
Port Ellen 32 Year Old 1979 (105 proof, 52.5 percent alcohol by volume, $936)
Port Ellen is now a malting facility that serves much of the Islay whisky industry, but before it shuttered in 1983 it was an important distillery in its own right. As well as appearing occasionally as part of the Classic Malts, it has enlivened some recent special releases from the blend Johnnie Walker. This is the second 32-year-old issue.
APPEARANCE: Medium-gold color. Gives up its chunky legs very slowly.
NOSE: Even if "warming" is not a tasting note, it's still the first sensation that this whisky gives up. It manages an array of aromas from toast to fruit to floral to savory to honey.
PALATE: In the mouth, it retraces the same sort of complex flavor safari, moving from hard candy to sweet toast, chocolate, roses, honey, cheese, smoke and red fruits. A veritable dessert in a glass.
FINISH: The chocolate bar and fruit sensation hold on for a while, giving way to a sort olive oil note.
You must be logged in to post a comment.
Log In If You're Already Registered At Cigar Aficionado Online