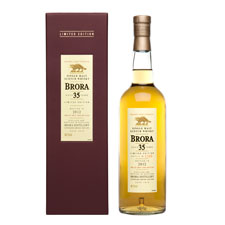 Only 1,566 bottles of the Brora 35 year old were produced.
First Taste of Rare, Classic Malts Selection Special Releases 2012 Whiskies
Rare is a term that gets bandied about a lot in the spirits industry. Of course, it's a concept that drives collectability, but the question always remains: How rare is rare? In the case of the Classic Malts Selection Special Releases 2012, it's rare enough that the distilleries that made two of the eight whiskies in the selection have ceased making whisky and one of the releases is not being made available in the United States.
And—alas—two of those whiskies apparently remain so rare that they did not come in the package we received weeks ago with the promise that the last pair would be on its way. But temptation being what it is we've decided to jump in and taste what's here, reporting to you on the final two malts whenever they do arrive.
This year's collection includes Auchroisk 30 year old, Brora 35 year old, Caol Ila 14 year old, Dalwhinnie 25 year old, Lagavulin 12 year old and 21 year old, Port Ellen 32 year old and Talisker 35 year old. Brora and Port Ellen are products that have stopped being distilled. Talisker is the malt that will not be available in the U.S. Auchroisk and Caol Ila are ones we have not received, but anxiously await.
Adding to their collectibility is that all the releases are cask strength, which gives a better window into the style of whisky a distillery was making at a certain time as some makers have changed the level of proof at which they distill. Typically whisky is diluted with water upon bottling to bring the proof to somewhere near the minimum 80 proof or 40 percent alcohol. None of these were.
While the total bottle count of the Special Releases 2012 is a little over 57,000 bottles (one-third fewer than the Special Releases from five years ago), the number of bottles for each of the malts ranges from 1,566 (Brora 35 year old) to 31,656 (Lagavulin 12 year old). The rest are less than 6,000 bottles apiece (Caol Ila, 5,958; Dalwhinnie, 5,358; Talisker, 3,090; Auchroisk 2,976; Port Ellen, 2,964; and Lagavulin 21 year old, 2,772). Diageo, the owner of the Classic Malts Selection, points out that by comparison the hard-to-come-by wine Montrachet AOC averages 95,000 bottles a year.
Brora 35 Year Old (96.2 proof, 48.1 percent alcohol by volume, $624)

This may be the prize of the group as this year's allotment of Brora finishes off Diageo's supply. It comes from a vatting of whiskies made in 1976 and 1977 and was bottled in 2012. A few years before the whisky was born the Highlands Brora distillery had been used to cover a shortage of Islay whiskies meant for blending and so made very peaty malts. This bottling represents a return to the "waxy" (the company's descriptor), less smoky Brora made before the plant was mothballed in 1983.
APPEARANCE: Light-gold color with thick quick legs.
NOSE: Very sweet, honeyed aroma with a cereal quality that makes it reminiscent of graham crackers. Some lemon and butterscotch. Still a bit of peat.
PALATE: Honey takes over in the mouth followed by light fruit (pears, peaches) and a bit of the waxiness of which they speak. A certain spiciness, as well as some Stilton cheese flavor, follow.
FINISH: Any smoke left from the Brora's "coastal" era seems to come out at the end. Gains ginger spice and then turns a bit nutty as it slowly fades.
Dalwhinnie 25 Year Old (104.2 proof, 52.1 percent alcohol by volume, $289)
This Central Highlands distillery is the highest and the coldest in Scotland, dating to 1897. Distilled in 1987 just after the distillery was refurbished, this particular whisky was aged in American oak hogshead casks. As well as being part of the Classic Malts, Dalwhinnie is an important part of the Black & White blend.
APPEARANCE: Light honey color, Very slow, medium-sized beads.
NOSE: Honey aroma with dried apple and pear notes. Dry, but somehow voluptuous at the same time.
PALATE: Honey opens up in the roof of the mouth and brings on aromatic spices as well as a healthy dose of vanilla and those same dried fruits as on the bouquet
FINISH: Although not very long a very pleasant finish with fruit and slight hints of cocoa or white chocolate.
You must be logged in to post a comment.
Log In If You're Already Registered At Cigar Aficionado Online