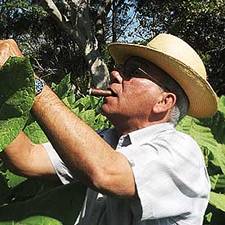 Photo by Richard Leonardi
Ten Years of Pepin Garcia
David Savona
Posted: December 17, 2012
The year 2013 marks the tenth anniversary of when José "Pepin" Garcia of My Father Cigars Inc. began rolling his namesake Don Pepin Garcia brand in Miami. The company plans to celebrate the occasion with a special smoke, as outlined in a September issue of Cigar Insider.
New details have emerged about the cigar, called DPG-Limited Edition; it will be a one-time run of 2,000 boxes, each containing 14 cigars. The smoke is going to be in one size, 6 1/2-inches long with a 52 ring gauge. Inside will be tobaccos from Nicaragua, grown in 2007 and 2008, wrapped in 2009 Ecuadoran wrapper grown from Habano seeds.
The company has hinted that the packaging will be "completely unique," and unlike anything the company has done before.
The cigars will go on sale around May.
Cigars from My Father Cigars have done exceptionally well in Cigar Aficionado and Cigar Insider taste tests, taking several scores of 90 points or higher. Brands made by Pepin, Jaime and Janny Garcia include My Father, Don Pepin and Flor de las Antillas. The company also makes Tatuaje, San Cristobal and La Aroma de Cuba under contract for other cigar companies.
Comments
9 comment(s)
JONATHAN DREW — NEW YORK, NY, UNITED STATES, — December 18, 2012 11:39pm ET
---
Jason Hutchins — Selma, N.C., USA, — December 19, 2012 7:42pm ET
---
Ryan — MA, — December 22, 2012 5:05pm ET
---
C Horn — Deerfield, IL, USA, — December 26, 2012 12:23am ET
---
Ben Albers — Baldwyn , MS, USA, — January 7, 2013 4:43pm ET
---
Salomon — January 9, 2013 12:28am ET
---
Ryan — MA, — January 9, 2013 12:17pm ET
---
nicholas turner — academy, Texas, United States, — February 14, 2013 9:33am ET
---
Derek Wotton — Deltona , Florida , — July 7, 2013 7:07pm ET
---
You must be logged in to post a comment.
Log In If You're Already Registered At Cigar Aficionado Online