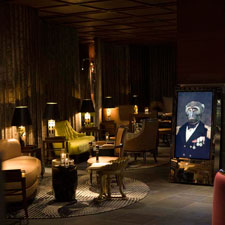 While the inside of Bar Centro, above, is no smoking, the bar's new terrace is very cigar friendly.
Bar Centro Terrace, Los Angeles
I make this point often. Los Angeles is not as unfriendly to cigar smokers as everyone makes it out to be. Sure, the laws don't make it easy, but there are plenty of business owners who believe allowing someone to enjoy a cigar at their place is good for the bottom line and they make the effort to accommodate us. Now you can add to the list what could become the hippest (does anyone use that word anymore?) cigar "bar" in L.A., the Bar Centro Terrace at the Bazaar.
The Bazaar is a culinary amusement park spawned by José Andrés, the Spanish master of traditional and new versions of Iberian classics, as well as interpretations of other international cuisines. The Bazaar is really at least four different food places inside the uber-luxurious SLS Hotel on La Cienega Boulevard's "restaurant row." Bar Centro is right up front. And now, Bar Centro Terrace is in front of Bar Centro.
The terrace is the narrow-ish porch just outside the doors of Bar Centro, with the hotel driveway on the other side of the hedge. The cigar program began in August of 2012 and has just four options: Davidoff cigarillos ($7), Hoyo de Monterrey Excalibur ($10), Ashton VSG Illusion ($15) and a Montecristo Churchill ($28)
"We want to make the list a lot more comprehensive," explains general manager Christian Philippo. "We hope to recruit some of the best cigarmakers in the world to provide us with something special." That would be good because the cigar selection really needs to catch up to what are some of the best tapas and drink pairings you'll ever sample.
Bar Centro's Smoke on the Water cocktail.
After I choose the Ashton VSG, there appears a cocktail dubbed "Smoke on the Water." The waiter advises that I let the fog clear from the glass before sipping this concoction of "blackberries, Scotch, Islay mist and flames." Sweet. Goes nicely with the cigar. Then the food starts to appear.
The jicama-wrapped guacamole with bits of corn nuts is moderately spicy and stands on its own. The iconic modern and traditional olives—the "modern" ones are molecular-gastronomic bubbles of olive essence that burst in your mouth—make even those who thought they didn't like olives praise the dish.
Manchego cheese on crusty bread. Oysters taken from the shell and put in a sort of sardine can. Then a very impressive molecular manipulation of a "not your everyday" caprese salad. The "liquid" mozzarella and tomatoes are delicate globes sitting atop a basil pesto and all have the perfect concentration of flavor.
This is a sampling, to be sure, but it's something of a blitz as well. Another drink is needed. Yes, the "magic mojito," please. The sugar in this mojito begins as cotton candy sitting alone in a glass. The waiter finishes the shaking of the booze at your table and then pours the elixir over the spun sugar, dissolving it into the glass. Okay, a little bit of a circus act, but fun, and the drink is top notch and helps clear the palate. Good thing because the food train has not stopped.
Perhaps the most impressive modern tapa is the "Philly cheesesteak," described as "air bread, cheddar and Wagyu beef." Intense. There's a "Hilly cheesesteak" for vegetarians, using mushrooms in place of the beef. But wait, there's more! A jamon iberico with a jidori chicken egg (over easy) and some of that great bread to sop up the yolk and truffle butter.
This is followed by, in order: A tortilla "new way," served in a small cup with the egg cooked sous vide to 63 degrees Celsius, with caramelized onions and topped with potato foam. (Yeah, I do that at home for Sunday brunch all the time.) Classic chicken croquettes; steamed buns filled with sea urchin; and a steamed bun with oxtail; pa amb tomaquet, a Catalan toasted bread with Manchego and tomato; and, finally, a cheese and quince plate.
The VSG Illusion was always there for a puff in between courses and still viable when Phillipo brought out the bottle of Zacapa 23-year-old rum as an after-dinner drink.
Bar Centro Terrace ultimately brings together what you want in L.A. This is people-watching central. Car-watching, too, if you focus on the driveway a little bit. If the cigar menu is properly expanded, as promised, this is going to be among the three best places to enjoy a great cigar, great drink and unmatched food in all of California.
Bar Centro Terrace
(310) 247-0400
SLS Beverly Hills Hotel
465 S. La Cienega Boulevard
Los Angeles, California
Call for hours
You must be logged in to post a comment.
Log in if you're already registered.
---
---
Search our database of more than 17,000 cigar tasting notes by score, brand, country, size, price range, year, wrapper and more, plus add your favorites to your Personal Humidor.
---
---