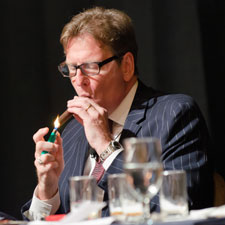 Photos/Sjodin Photography
Jack Bettridge of Cigar Aficionado led the room on a whirlwind tasting of fine rum and cigars.
2012 Big Smoke Sunday Seminars—The "Rumbunctious Ruminar"
(continued from page 1)
"Unlike wine, the age of a spirit depends on its time in oak, not it's time in the bottle," Bettridge reminded the audience, before Nimish chimed in on consistency.
"No one expects wine or spirits to be exactly the same year after year," Nimish said, "But for some reason, everyone expects cigars to taste the same every year no matter what, so we have to constantly play with the percentages of tobacco in order to keep the cigar consistent from year to year. That's very difficult."
Nimish added that the Rocky Patel Private Cellar is the blend that brand owner Rocky Patel himself smokes recreationally, as he is a fan of broadleaf, which can be naturally sweet. This brings to question the method of spirits pairing. One can pair a cigar to rum by synergy (sweet synergizing with sweet) or by contrast (sweet contrasting with savory).
As is customary with Jack Bettridge's spirits seminars, extra pours were offered to anyone who wanted them, and at the end, leftover bottles were given away at Bettridge's off-the-cuff Q&A session, a lightning round that tested the audience to see who was actually paying attention to his lesson, and who was just smoking and drinking with abandon. Door prize or not, a flight of four prestigious rums and carefully selected cigars is the ideal way to end a Big Smoke Las Vegas weekend. And perhaps a way to prepare for the Big Smoke New York.
Big Smoke Evenings
Big Smoke Las Vegas Evenings 2012
Big Smoke Saturday Seminars
Top Three Cigars of 2011 Tasting
The Nicaraguan Panel

Industry Veterans
Lunch with Davidoff of Geneva
Big Smoke Sunday Seminars
Breakfast with Luciano Pellegrini

Roll Your Own Cigar

The "Rumbunctious Ruminar"
You must be logged in to post a comment.
Log In If You're Already Registered At Cigar Aficionado Online