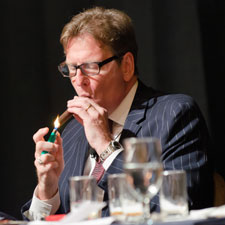 Photos/Sjodin Photography
Jack Bettridge of Cigar Aficionado led the room on a whirlwind tasting of fine rum and cigars.
2012 Big Smoke Sunday Seminars—The "Rumbunctious Ruminar"
You have two cigars and four different rums. Statistically speaking, that will allow eight possible pairing combinations, all of them probably pretty good, but you only have one hour to find the finest match. If you ask Cigar Aficionado's senior features editor and spirits guru Jack Bettridge, the job shouldn't be too difficult. This was everyone's task for those who attended Big Smoke's "Rum-Bunctious" seminar on rum, cigars and all their possible combinations. It was the final seminar of the Big Smoke weekend and joining Bettridge onstage was Nimish Desai of Rocky Patel Premium Cigars.
After a hearty breakfast and a cigar-rolling competition, Big Smoke attendees were ready for a flight of adult libations, which consisted of four rums from four different countries: Brugal 1888 from the Dominican Republic, Ron Zacapa 23 from Guatemala, Appleton Estate 21 from Jamaica and Bacardi 8 from Puerto Rico.
"I like to think of rum as the universal donor to cigars because it's tough to find a bad rum pairing," said Bettridge. "Rum is wonderful because it naturally finds and brings out the sweetness in the cigar." Or cigars, which, in this case were two. The first two came from Rocky Patel-the Xen by Nish Patel is a box-pressed, Connecticut-wrapped Robusto, and the Rocky Patel Private Cellar Toro features a Connecticut Broadleaf wrapper.
"This is the only box-pressed Connecticut cigar on the market" asserted Patel. "The Connecticut wrapper is from Ecuador, the filler Nicaragua and the binder from Mexico, but don't let the Connecticut wrapper fool you-it has a lot of flavor."
Nimish Desai of Rocky Patel Premium Cigars joined Bettridge in the rum and cigar tasting.
Xen was the first cigar paired with the Brugal 1888, which, as Bettridge explained, spends four to six years in a bourbon barrel, then additional time in sherry oak barrels. Brugal is owned by the Edrington Group (the same company that owns The Macallan Scotch), so it provides Brugal with the barrels.
"The Brugal has a vanilla character, kind of nutty, cashews and some ginger," said Bettridge, who took a puff of the cigar and looked over at Desai. "This is a really nice cigar. I say that because I'm next to a man who's nearly twice my size."
Assuming the crowd was drinking their rum in the same order as Bettridge, the Bacardi 8 was next.
Paul Segal and April Angeloni enjoy the rum and cigar pairings.
"You're all familiar with their clear rums," Bettridge declared, "but this is the second highest grade from Bacardi, and a real value. It's called Bacardi 8 because it's eight years old. The aging creates all the vanilla and caramel character, but the barrel does two things: It adds flavor but also smooths out the rum. At different times during maturation the barrel might become tapped out, and will no longer contribute anything to the spirit, but rum is a blender's art, so you won't find too many single-barrel rums. The blender works from thousands of barrels in order to maintain consistency."
When compared to the Brugal, Bettridge found the Bacardi to be "much sweeter with a tantalizing licorice flavor."
The room moved to the third rum, which was the Ron Zacapa. Some of the attendees had lit up the second cigar-a Rocky Patel Private Cellar Toro-while some wanted to stay with the Xen. There wasn't a real set order and no rum was exclusively intended for any specific cigar. Like Sherry, Zacapa uses a solera barreling system, where rums of different ages in different barrels are staggered into each other over time. The 23-year-old rum itself is made from fresh cane juice rather than molasses and is aged at a very high altitude at cooler temperatures for slower, more refined maturation.
You must be logged in to post a comment.
Log In If You're Already Registered At Cigar Aficionado Online