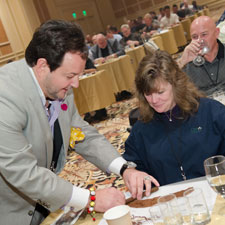 Photos/Sjodin Photography
Terri Chapman gets a bit of advice on rolling from Team La Gloria leader Michael Giannini.
2012 Big Smoke Sunday Seminars—Roll Your Own Cigar
(continued from page 2)
Giannini stretched the tension again as he fumbled with the bag to read out the name: Ron Taylor.
Taylor was in shock as he came to the stage through a thunder of applause. It was his fourth Big Smoke and his third time rolling at the seminars. Taylor, who hails from Omaha, Nebraska, told his wife earlier in the weekend that he felt confident going into the contest.
Taylor won two humidors full of La Gloria Cubana cigars with nearly a decade of age. Giannini handed him an extra box of Serie R so that he can "have something to smoke" for the moment.
As Taylor posed for photos with Giannini, holding up his prizes, some members of the crowd were reassessing their own work, wondering if it could be them up there next year.
Big Smoke Evenings
Big Smoke Las Vegas Evenings 2012
Big Smoke Saturday Seminars
Top Three Cigars of 2011 Tasting
The Nicaraguan Panel

Industry Veterans
Lunch with Davidoff of Geneva
Big Smoke Sunday Seminars
Breakfast with Luciano Pellegrini

Roll Your Own Cigar

The "Rumbunctious Ruminar"
You must be logged in to post a comment.
Log In If You're Already Registered At Cigar Aficionado Online