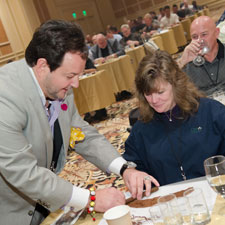 Photos/Sjodin Photography
Terri Chapman gets a bit of advice on rolling from Team La Gloria leader Michael Giannini.
2012 Big Smoke Sunday Seminars—Roll Your Own Cigar
(continued from page 1)
A very confused Giannini broke the silence, standing in one of the corners of the room, shaking his head over one of the participants. "I don't know what you did here..."
Finally, Giannini called for submissions to be held up for his team to collect. He offered the audience one guideline for determining if their cigar has a shot: "If you saw this in a La Gloria Box, would you spend six dollars for it?"
Before the presentation of the three best cigars, it was time for a laugh from some of the funny, pathetic, and just plain weird submissions brought to the stage.
A CRA-themed Uncle Sam doll with Giannini's face superimposed on the head made the list, as did spaceships, helicopters and a voodoo doll. There was also an actual store-bought La Gloria with a band already on turned in by someone in the audience.
There were several prizes for ridiculous products. Two Canadian veterans split a prize for most inventive submission with a cigar model of a Bell 4-72 helicopter. A Californian presented a wine bottle dressed to look like an over-fat La Gloria Cubana, for which he received a box of Serie R.
Giannini described the winners of a box of Artesanos Tabaqueros as having "too much time on their hands" when they turned in a rocket ship made from more than a dozen cigars. The bribery prize went to a cigar wrapped with a $20 bill; a special award went to veteran and roller Lenny Abramowitz, who lost a few fingers in Vietnam. Since he can't roll, he occasionally submits his bunch topped on either end with his prosthetic digits. This year it got him a box of El Rico Habanos.
Then it was time for the top three cigars. Third place went to a first timer from Lexington, Kentucky, who received a box of Reserva Figurados amid jokes about his "secret" being a hangover.
Team La Gloria with winner Ron Taylor. From left: Leo Paraza, Michael Giannini, Taylor, and Yuri Guillen.
The haul of prizes for second place was immense: two boxes of Serie R, and a box each of Wavells, Reserva Figurados, and Artesanos Tabaqueros. The lucky contestant, a first-timer from Beaverton, Oregon, told Giannini that he won't have trouble getting his prizes home. "I'll charter a plane if I have to."
Finally, with only one prize left to go, it was time to crown the winner. Giannini picked up the bag containing the winning cigar and dangled it in the air like a hypnotist.
"Who thinks this is their cigar?" Giannini called out, toying with the crowd. A few hesitant hands rose into the air, but no one was sure as they marvelled at the smooth wrapper leaf, the tight pigtail cap, and the even, tucked foot of the winning cigar.
You must be logged in to post a comment.
Log In If You're Already Registered At Cigar Aficionado Online