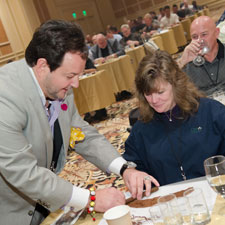 Photos/Sjodin Photography
Terri Chapman gets a bit of advice on rolling from Team La Gloria leader Michael Giannini.
2012 Big Smoke Sunday Seminars—Roll Your Own Cigar
While the Sunday Big Smoke breakfast was wrapping up down the hall at the Mirage, Michael Giannini of General Cigar Co.'s Team La Gloria was warming up for his annual "Roll Your Own Cigar" seminar.
Every seat in the house came equipped with a rolling mat, a premade bunch, some vegetable glue and a small razor blade. A stack of wrapper leaves was waiting at the entrance to the room, as were several members of Team La Gloria waiting to distribute the leaves and a La Gloria Cubana Wavell for everyone to smoke while they (try to) roll a premium cigar.
Giannini was talking prizes with his team as they organized the boxes of La Gloria Cubana Serie R No. 5s, Artesanos de Tabaqueros, El Rico Habano Gran Coronas, Reserva Figurados, and two grand-prize humidors filled with Serie R stock from 2003.
The breakfast over, the crowd moved down the hall, waiting in excitement just outside. Giannini called the team together for one last pep talk, and they put their hands in the middle for a "go-team" moment as the first of the crowd headed though the doorway, dashing for seats up front.
Leo Peraza had already taken his place on stage when Giannini began. The next 20 minutes were relatively quiet for a Sunday Big Smoke seminar. Participants worked diligently while listening to the authoritative instructions, watching Peraza's deft hands cut and then roll and unroll the cigar's wrapper with ease, hoping to duplicate his professional moves.
The act of rolling a cigar began with stretching the wrapper taught. Giannini cut in as the audience of 500 took their best shot. "You want to be able to wrap the cigar so it's nice and seamless."
Some were already struggling, and as Giannini tried to move onto the next step, there were a few pleas to wait. "This is probably the easiest part," said Giannini, "So if you're struggling..."
A La Gloria clamped in his jaws, a participant tries the delicate art of trimming a wrapper leaf.
Giannini explained that what they're holding in their hands is a genuine piece of La Gloria Cubana Ecuador Sumatra wrapper leaf, filling the silence as Peraza demonstrated on large video screens how to cut and shape the wrapper.
"Please do not cut yourself-we do not have insurance," joked Giannini as the seminar-goers lifted their razors and began to make the two shaping cuts to the wrapper leaf.
Giannini stopped short in one of the back rows. Someone was cutting with a military knife, and he borrowed the blade to hold up and show the audience. He continued around the room, offering advice here and there as Peraza continued his tutorial, and all moved rolling and sealing the wrapper tight with a bit of vegetable glue.
You must be logged in to post a comment.
Log In If You're Already Registered At Cigar Aficionado Online