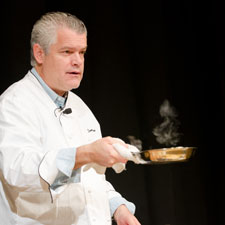 Photos/Sjodin Photography
Chef Luciano Pellegrini showing the crowd the proper technique for making a breakfast frico.
2012 Big Smoke Sunday Seminars—Luciano Pellegrini Cooks Breakfast
Andrew Nagy
Posted: November 15, 2012
(continued from page 1)
As the frico and frittata both cooked, Pellegrini sliced in half his veal sausages. The chef explained that he had prepared the sausages before at his restaurant, and that the "secret recipe" of spices included licorice, nutmeg, rosemary and sage. A little olive oil in another pan and started the sausages off.
Then, in one smooth motion, Pellegrini flipped the frittata, garnering a round of applause from the crowd. "Still got it," he joked. The chef would flip the frittata one more time before plating the dish. As he plated, Pellegrini dabbed the top of the frittata with his towel. An audience member shouted "Why are you doing that?" and Pellegrini explained that it's the only way to soak up any excess moisture.
Pellegrini then answered a few questions from the audience, including "What's your favorite cigar?"
"I like Cubans," Pellegrini said, "but anything with a nice, balanced flavor I'll be happy with."
With that, it was time for the crowd to move on to the next seminar and learn how to roll their own cigars. On the way in, attendees received a Romeo by Romeo y Julieta Toro, a 6 by 54 ring smoke. While Nevada laws didn't allow the audience to smoke during breakfast, many welcomed the postprandial cigar and lit it up.
Big Smoke Evenings
Big Smoke Las Vegas Evenings 2012
Big Smoke Saturday Seminars
Top Three Cigars of 2011 Tasting
The Nicaraguan Panel

Industry Veterans
Lunch with Davidoff of Geneva
Big Smoke Sunday Seminars
Breakfast with Luciano Pellegrini

Roll Your Own Cigar

The "Rumbunctious Ruminar"
You must be logged in to post a comment.
Log In If You're Already Registered At Cigar Aficionado Online