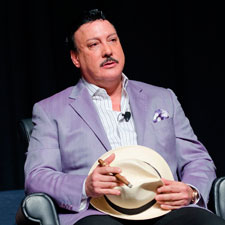 Photos/Sjodin Photography
Carlos "Carlito" Fuente Jr., president of Tabacalera A. Fuente y Cia., maker of Arturo Fuente and Fuente Fuente OpusX cigars.
2012 Big Smoke Saturday Seminars—Industry Veterans
Andrew Nagy
Posted: November 14, 2012
(continued from page 1)
Newman spoke about being the man in charge of the only major cigar company left in Tampa, once considered the cigarmaking capital of America.
Henke Kelner of Tabadom Holding Inc.
"When the embargo happened in 1961," Newman said, "suddenly we could not get Cuban tobacco anymore." Newman continued by talking about how factories were forced to close, but his father, Stanford, who followed the philosophy that when faced with adversity, one must innovate, was determined to stay open.
"That's when he discovered Cameroon wrapper," said Newman. While the company does not make any profit off of the cigars it produces in Tampa, he is determined to keep making cigars in the city "because it is special."
Benji Menendez of General Cigar Co.
With that, the first part of the Veterans seminar ended and Sathya Levin took to the stage to discuss his La Aroma de Cuba Mi Amor Belicoso, the reigning No. 2 cigar of the year. After he finished, it was time for the other Veteran panelists to speak.
This time the group consisted of Manuel Quesada, owner of Manufactura de Tabacos S.A., or MATASA and creator of Fonseca and Quesada cigars, Henrik "Henke" Kelner, president of Tabadom Holding Inc. and maker of Davidoff and Avo cigars, Benjamin Menendez, senior vice president of General Cigar Co., and Jose Seijas.
Seijas, who recently retired as the head of Tabacalera de Garcia Ltd., a Dominican factory capable of rolling some 60 million cigars a year, started off the conversation by talking about his new endeavor, a small factory in La Romana.
Jose Seijas, formerly of Tabacalera de Garcia Ltd.
Seijas said he was excited to start small again because it would give him lots of freedom and time to do what he wanted to do. "My vision can be clearer," said Seijas. While he didn't go into specifics, Seijas was excited for the blends he had in store for next year.
Menendez, the son of the creator of the Cuban Montecristo brand, was asked to talk how he created his Special Selection cigar, a Top 25 cigar of 2011. Menendez said the first thing he did was look for a blend with flavor, because he could always adjust for strength, if needed.
The cigar, he said, is a 54 ring gauge and so you have to treat it different in order to keep it flavorful. "It would be easy to blend the taste right out of it."
Continuing the talk about the challenges of blending, Quesada spoke about the why its far more difficult to blend a 38 ring gauge cigar than a 50.
Comments
1 comment(s)
Armando Padron — Tampa, Florida, USA, — November 14, 2012 10:40pm ET
---
You must be logged in to post a comment.
Log In If You're Already Registered At Cigar Aficionado Online