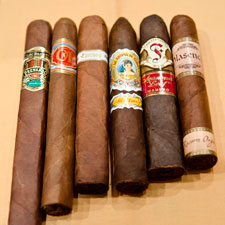 Photos/Sjodin Photography
The six cigars attendees received for the Saturday Seminars.
2012 Big Smoke Sunday Seminars—Top Three Cigars of 2011 Tasting
(continued from page 2)
Levin continued: "The meeting was very encouraging and my father and I knew that we had found our partners. By 2009, we reblended and relaunched the brand, now made in Nicaragua by the Garcias."
Renewed interest in the cigar prompted the creation of the La Aroma de Cuba Mi Amor, which was a box-pressed smoke blended with hearty Nicaraguan filler but defined by its flavorful Mexican San Andrés wrapper. The Belicoso, which many in the audience were already smoking, garnered the No. 2 spot in our Top 25 list.
"Being the No. 2 cigar of the year was an honor," said the young Levin. "And I'd like to dedicate this honor to our late vice president of sales, Manny Ferrero. Some of you may have had a drink or two or three with him. He knew how to enjoy life. But to me, he was like a second father, and I will never forget him."
Many in the crowd did indeed know Ferrero, and the applause segued into the next seminar, which was a reprise of the Industry Veterans panel. This lead to the introduction of the No. 1 cigar of the year: The Alec Bradley Prensado Churchill. But, unlike the two cigars before it, brand owner Alan Rubin could not be present due to surgery. However, in true rock star fashion, he prepared a video which addressed the crowd as though he were in the room. The lights dimmed and Rubin began.
Ralph Montero took to the podium to talk about the Alec Bradley Prensado Churchill.
"I want to apologize for not being here. I had to have some surgery and by the time you see this, I should be recovering. Before
Cigar Aficionado
magazine, no one had ever heard that term before. I never did. But now, it is part of every smoker's vocabulary. Either you were an 'aficionado' or you aspired to be. One of the things I remembered about the first issue was the Editors' note and its mission statement about The Good Life. You could take that same note and plug it into any issue today, and it would be just a relevant. Cigar Aficionado did to cigars what Google did to the Internet. It gave cigarmakers a platform and a voice. And it feels great to be in a room with so many people who share our pleasure. We couldn't do it without you."
Rubin told the crowd how in 2009 he set out to make a box-pressed cigar, as a box-pressed brand was something that his portfolio was lacking. When he built the Prensado blend, he drew much tobacco from two farms in Honduras, one was called Trojés and the other was called Membraño. This distinct tobacco was wrapped in a Corojo 2006 cover leaf and made at the Racies Cubanas factory in Honduras.
Before the video ended, Rubin introduced his executive vice president, Ralph Montero, who was present and took the podium once the lights came on.
"When we first found out that we won Cigar Aficionado's Cigar of the Year, that was a crazy moment for us," Montero recalls. "The feeling in the office was surreal. But I've been around tobacco since I was 17 years old. The most important thing is to shut your mouth and listen to people who know. I want to make it to 85 years old and when I do, I want to have a cigar in my mouth."
This generated massive applause from the smoke-filled room. Some were already on their second cigar, others their third, and some had not even touched their packets at all, which of course is OK, too. There are no set smoking rules for the Big Smoke seminars, which were far from over. A panel of experts on Nicaraguan tobacco, agronomy and blending were slated to take center stage, followed by the annual Big Smoke lunch, which included a three-course meal, and, of course, more cigars.
Big Smoke Evenings
Big Smoke Las Vegas Evenings 2012
You must be logged in to post a comment.
Log In If You're Already Registered At Cigar Aficionado Online