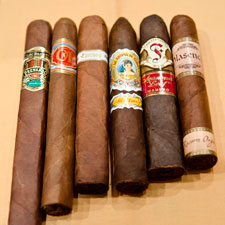 Photos/Sjodin Photography
The six cigars attendees received for the Saturday Seminars.
2012 Big Smoke Sunday Seminars—Top Three Cigars of 2011 Tasting
(continued from page 1)
"Walking around the humidor you wonder why people gravitate towards certain cigars. I always pondered this," said Giolito. "I like to say that everyone knows what tastes good, but they don't always know why. That is what intrigued me, so I went to Central America and learned from Henke Kelner about the olfactory, palate stimulation and about the characteristics of certain tobacco."
Then in 2005, Giolito established a relationship with the principals of the Raices Cubanas factory in Honduras where Illusione was born.
"I wanted to create a cigar that wasn't knock-out strong. Strong is easy. Balance and complexity is difficult. When I blend, I'm farm specific and lot specific. I'll find one leaf, identify a flavor in it that I like, and build a blend around it."
This concept brought him to his Epernay series, a line of smokes named after the Champagne region of France.
"I believed that those bready, sweet and floral flavors that define a great Champagne could be replicated in tobacco. This is what I was aiming for with the Epernay cigar."
The brand has made more than one appearance on Cigar Aficionado's Top 25 lists, but at No. 3 for 2011, the Le Taureau size has performed the best so far. Most of the crowd was smoking his creation before he left the podium.
When asked by an audience member how an outsider was able to form such relationships with growers and rollers in Central America, Giolito answered: "The same way I learned to swim, my grandfather just pushed me into the pool."
Sathya Levin spoke about his La Aroma de Cuba Mi Amor Belicoso, the No. 2 cigar of the year.
The Illusione Epernay gave smokers something to enjoy during the next seminar, which focused on a few of the cigar veterans of the industry. When that seminar concluded, it was time for the second cigar break and Savona returned to the stage to introduce Sathya Levin, vice president of Ashton Distributors, owner of The No. 2 Cigar of the Year: La Aroma de Cuba Mi Amor Belicoso.
"The goal was to create a cigar that strikes a balance between strength, balance and finesse," said Levin. "For most people, that means a medium-bodied cigar."
La Aroma de Cuba started as a discontinued vintage brand that Ashton resurrected. At the time, it was made in Honduras at another factory, but a meeting with cigarmaker José "Pepin" Garcia prompted Sathya and his father, Robert Levin to reconsider the brand. Garcia expressed admiration for the cigar's classic lithography and said: "One day, I'll be inside that box."
You must be logged in to post a comment.
Log In If You're Already Registered At Cigar Aficionado Online