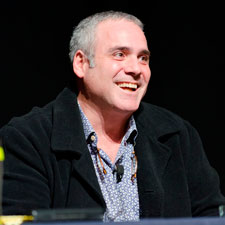 Photos/Sjodin Photography
John Oliva Jr. of Oliva Tobacco Co.
2012 Big Smoke Saturday Seminars—The Nicaragua Panel
(continued from page 1)
Plasencia described an organic crop that he recently developed using manure that was processed with worms, producing something he calls earthworm hummus. "I went to my dad with this crazy idea," he recalled, "and he was more crazy than I am: he let me do it."
Nestor Andrés Plasencia of Plasencia Tobacco.
A Plasencia Reserva Organica Robusto was included in the Humidipak bag of goodies passed out to each attendee for smoking at a later time. Fernandez included one of his Casa Fernandez Aganorsa Leaf Maduro Robusto Extras, made with the medio tiempo he had referenced earlier, and Martinez gave out one of his new CyB cigars in a 6-inch-long, 48-ring-gauge format made specifically for the seminar attendees.
Among the predictions for Nicaragua's burgeoning future was Martinez's view that direct competition with Cuba would soon come. "Nicaragua is getting ready for a big fight with the opening of Cuba, and that challenge is going to happen." However, he added that Nicaragua had "nothing to envy from Cuba. We are getting ready for that fight and we are going to win."
Big Smoke Evenings
Big Smoke Las Vegas Evenings 2012
Big Smoke Saturday Seminars
Top Three Cigars of 2011 Tasting
The Nicaraguan Panel

Industry Veterans
Lunch with Davidoff of Geneva
Big Smoke Sunday Seminars
Breakfast with Luciano Pellegrini

Roll Your Own Cigar

The "Rumbunctious Ruminar"
You must be logged in to post a comment.
Log In If You're Already Registered At Cigar Aficionado Online