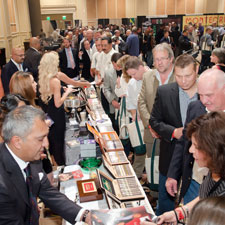 Photos/Sjodin Photography
More than 4,000 people attended the Friday and Saturday Big Smoke Las Vegas Evening sessions.
Big Smoke Las Vegas Evenings 2012
(continued from page 2)
And one of the most popular booths (with some of the longest lines) was Rocky Patel, where booth owner Patel and former-baseball-great-turned-cigar-partner Gary Sheffield greeted patrons and signed autographs. Sheffield talked proudly of the namesake blend now being sold by Patel, saying that Patel has given him a unique variety of flavors and puts out a very consistent product. "That's what I look for in a cigar."
Tatuaje mastermind Pete Johnson greeted his fans with a gigantic handshake. Johnson says he loves doing these events. "I get to really meet my fans, and get their feedback. It's one reason I went into the business: I love cigar people."
By the end of the night the room had filled with smoke, but if fatigue had affected any of the patrons, they weren't showing it.
Longtime Big Smoke veterans Fletcher Wells and Lenny Abramowitz, usually first in line for seminars and evenings alike, say friendship is what keeps them coming back. 
"This is where we see each other," said Wells, who has twice won the cigar rolling contest during the seminars. He and Abramowitz live in different parts of the country, and Big Smoke is where they meet every year to catch up and spend some time enjoying their love of cigars. "It's like a family reunion."
Big Smoke Evenings
Big Smoke Las Vegas Evenings 2012
Big Smoke Saturday Seminars
Top Three Cigars of 2011 Tasting
The Nicaraguan Panel

Industry Veterans
Lunch with Davidoff of Geneva
Big Smoke Sunday Seminars
Breakfast with Luciano Pellegrini

Roll Your Own Cigar

The "Rumbunctious Ruminar"
Comments
8 comment(s)
Jim Dudlicek — Hoffman Estates, IL, USA, — November 12, 2012 8:42pm ET
---
BIGS — MILWAUKEE, WI, USA, — November 13, 2012 9:07am ET
---
Thomas Laspia — Cary, Nc, USA , — November 13, 2012 12:36pm ET
---
Christian — November 13, 2012 1:19pm ET
---
LEWIS LEFEVRE — ELIZABETH, CO, UNITED STATES, — November 14, 2012 3:19pm ET
---
AJ PACALDO — BAKERSFIELD, CA, UNITED STATES, — November 14, 2012 4:17pm ET
---
Arthur Espinoza — Fontana, CA, USA, — November 15, 2012 2:04pm ET
---
Dave Rutherford — Calgary, Alberta, Canada, — December 25, 2012 11:10pm ET
---
You must be logged in to post a comment.
Log In If You're Already Registered At Cigar Aficionado Online