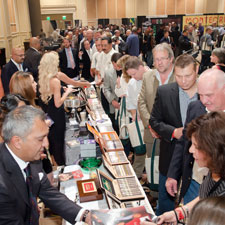 Photos/Sjodin Photography
More than 4,000 people attended the Friday and Saturday Big Smoke Las Vegas Evening sessions.
Big Smoke Las Vegas Evenings 2012
(continued from page 1)
The crowd only got bigger for the Saturday night show, which brought the grand total of Big Smoke Evenings attendees to more than 4,000.
Set up next to the Glenmorangie booth, Larry Sherman stepped cautiously amid a growing pile of shredded-coupon confetti as his team took the numbered slips from patrons and passed out the Nat Sherman Timeless. Sherman took time to cut and light cigars for some of the patrons, and talked about the company's history and their plans for the future.
"I think it's really special about Big Smoke is getting to talk with a group of people so passionate about cigars," said Sherman. "They're so happy to be here-it's like trick-or-treat for them."
On the other side of the room were grand buffet stations with sliders and snacks from some of the best restaurants in Vegas. Tao from the Venetian offered braised shortribs on steamed buns. Lavo from the Palazzo was serving Rosemary Paninos with porchetta and crueolo cheese. Delmonico Steakhouse of the Venetian presented a classic steak tartare with traditional garnishes and rosemary lavash.
Nearby the Padrón and Ashton booths continued to shell out cigar after cigar to patrons who stretched lines around booths, while La Flor Dominicana's Litto Gomez and his son Tony handed out two sizes of Double Ligero.
Then, for the first of several times over the next two nights, the music stopped, the lights went low, and a Cirque de Soliel aerialist performed on ribbons high above the floor for all to see.
Lavo from the Palazzo was serving Rosemary Paninos with porchetta and crueolo cheese.
Spirits whetted everyone's appetite for cigars with a variety of rums, Scotches, whiskeys, and more. George Dickel poured three whiskeys: Barrell Select, No. 12, and No. 8; Zacapa Rum was pouring both its 23-year old variety as well as its X.O.; Crown Royal poured four varieties of its Canadian whisky. The folks at Zaya rum and Crystal Head vodka kept the drinks flowing, as did Guinness with a large table of their Black Lager and Maestro Dobel tequila.
Both Dewar's and Hudson Whiskey were offering a handful of options for attendees. Dewar's served Dewar's Signature and Aberfeldy 21, while Hudson featured their newest release: Monkey Shoulder. Talisker poured their namesake 10-year, as well as two varieties of Lagavulin and two of Oban. Michter's poured three varieties of organic vodka, a gin, and four of their whiskeys. There were offerings from Abelour, Wagner's Conundrum, and four options from Glenmorangie; Cigar Zin and Luna De Luna rounded out the wine pourings.
In all, the cigars passed out included blends from: Aging Room, Alec Bradley, Arturo Fuente, Ashton, Camacho-Room 101, C.A.O. Concert, Casa Fernandez, Casa Magna, CLE, Cusano, Diamond Crown, Dona Flor, Don Pepin, Dunhill Aged, E.P. Carrillo, Estilo Cubano, Foundry, Gurkha, Hoyo de Monterrey Reposado en Cedros, Joya de Nicaragua, La Aroma de Cuba, La Gloria Cubana Serie R, La Palina, Macanudo Crü Royale, Montecristo Las Vegas, Oliva, Padilla, Padrón, Partagás 1845, Pinolero, Pura Sangre, Rocky Patel, San Lotano, Studio Tobac, Tatuaje, Te-Amo Revolution, VegaFina Fortaleza 2 and Zino Platinum.
Watchmakers Oris, Carl F. Bucherer, Cuervo Y Sobrinos, and the cigar accessories folks from Lotus, and Vertigo all gave the smoke-obsessed guests plenty of bling to marvel at in between puffs.
Comments
8 comment(s)
Jim Dudlicek — Hoffman Estates, IL, USA, — November 12, 2012 8:42pm ET
---
BIGS — MILWAUKEE, WI, USA, — November 13, 2012 9:07am ET
---
Thomas Laspia — Cary, Nc, USA , — November 13, 2012 12:36pm ET
---
Christian — November 13, 2012 1:19pm ET
---
LEWIS LEFEVRE — ELIZABETH, CO, UNITED STATES, — November 14, 2012 3:19pm ET
---
AJ PACALDO — BAKERSFIELD, CA, UNITED STATES, — November 14, 2012 4:17pm ET
---
Arthur Espinoza — Fontana, CA, USA, — November 15, 2012 2:04pm ET
---
Dave Rutherford — Calgary, Alberta, Canada, — December 25, 2012 11:10pm ET
---
You must be logged in to post a comment.
Log In If You're Already Registered At Cigar Aficionado Online