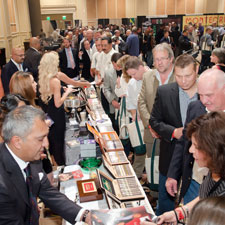 Photos/Sjodin Photography
More than 4,000 people attended the Friday and Saturday Big Smoke Las Vegas Evening sessions.
Big Smoke Las Vegas Evenings 2012
A long line of eager smokers filled the halls of the Mirage Hotel in Las Vegas Friday evening as thousands waited for the signal to start this year's Big Smoke Las Vegas. Some gathered as early as 2 p.m. to ensure quick access to the grand ballroom floor.
Inside, cigar celebrities were putting the finishing touches on their presentations for one of the most well-attended events in the Big Smoke's 17-year history. Tickets were sold out, and those lucky enough to reserve tickets and attend were salivating at what waited for them inside.
At half past six, the first surge of guests raced forward, catching impressive eyefuls of a claret red 2014 Chevy Impala, which will not be available until next spring.
Up front was the Alec Bradley booth, staffed by an energetic Sam Phillips (their vice president of marketing) who wore a camera on his head to document the event. He spent both evenings tossing hats, shirts and cigars into the crowd.
Eric Newman of J.C. Newman, deciding to buck tradition, offered patrons a choice of cigars from three of their major lines. "We've never done that before," said Newman, gesturing to the separated stacks of Maximus, Julius Caeser, and Diamond Crown smokes.
The Zino Platinum mobile lounge held a cozy few guests in the refined luxury of a blinged-out van.
Gary and Oliver Hyams from Gurkha-in their first year at the Big Smoke-were sharing both the Royal Challenge and Ghost lines with patrons, and gave out large posters with some of their most interesting label and box art.
On both nights, a Cirque de Soliel aerialist performed on ribbons high above the floor for all to see.
Mike Giannini meanwhile was standing by for photo ops at the steam-punkish Foundry booth. "We just started to ship [Foundry] last week," said Giannini, "so it's the first time consumers get to see them up close."
Ernesto Perez-Carrillo and son Ernie handed out three sizes from their E.P. Carrillo core line, while Bill Paley offered the La Palina Classic Robusto. Representatives from Padilla Cigars handed out fine smoke after fine smoke. 
It was quite the occassion for even longtime attendees. Philip Archinal, in an eye-catching red paisley smoking jacket, explained that he'd been to the Big Smoke Las Vegas with friends Mike Avey and Doug Halcomb for ten years now. The trio gathers together for this every year and they refer to it as the men's retreat.
Comments
8 comment(s)
Jim Dudlicek — Hoffman Estates, IL, USA, — November 12, 2012 8:42pm ET
---
BIGS — MILWAUKEE, WI, USA, — November 13, 2012 9:07am ET
---
Thomas Laspia — Cary, Nc, USA , — November 13, 2012 12:36pm ET
---
Christian — November 13, 2012 1:19pm ET
---
LEWIS LEFEVRE — ELIZABETH, CO, UNITED STATES, — November 14, 2012 3:19pm ET
---
AJ PACALDO — BAKERSFIELD, CA, UNITED STATES, — November 14, 2012 4:17pm ET
---
Arthur Espinoza — Fontana, CA, USA, — November 15, 2012 2:04pm ET
---
Dave Rutherford — Calgary, Alberta, Canada, — December 25, 2012 11:10pm ET
---
You must be logged in to post a comment.
Log In If You're Already Registered At Cigar Aficionado Online