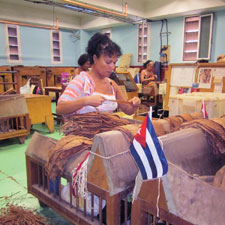 The center vein in the tobacco leaf is stripped away, left, and the women doing the job make another.
A Day at the La Corona Factory
The long journey a tobacco leaf takes through a Cuban cigar factory, from front door to cigar box
(continued from page 1)
After the sorting process, the cigars are ready for the packing room. The bare wooden boxes have arrived there from a central location in Havana, and the workers there place the front marks on the boxes. In another part of the room, the workers are putting the bands on the cigars and getting them ready for the boxes. Then, the cigars are placed in the boxes, once again going through a color revision on each layer in the box.
There's more to La Corona than just the rolling process. For the 650 employees who work there, it has a full-time doctor, a nurse and a dentist who treats the workers right on site. When needed, specialists are called in for specific medical problems. There is a cantina; lunch is served every day, and the workers get an hour off. The factory knocks off around 4:30 in the afternoon for the day.
There is also an official tasting room. Saul Gonzales is the head taster at the factory, and he has 12 people who will assist him, which is perhaps the dream job for the cigar aficionado. They test the blends each day, using a small sheet of paper to grade a cigar on draw, flavor, aroma, strength and combustion; the tests are conducted on a random selection from the day's production.
As Gonzales says, "we start over every day with a new batch of cigars to taste." Just like the factory itself, at the end of the day, the work has already been started for the production that will take place the next day.
How long does it take for that single tobacco leaf to move from the back door through the factory and then back out again in a box headed to a central warehouse somewhere down on the Havana docks? My educated guess is around a week. What happens after the box leaves the factory? That's for a future story.
You must be logged in to post a comment.
Log In If You're Already Registered At Cigar Aficionado Online