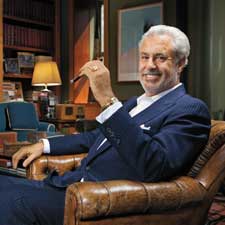 Paley's office in Washington D.C. is sprinkled with wood and leather and adorned with personal mementos, including some from his father's run at CBS.
La Palina's Next Act
Bill Paley spent his life trying to please his famous father, but found success making cigars like his grandfather
Bill Paley sits back in a leather chair in his Washington, D.C., office, a puff of smoke from his La Palina cigar dying long before it reaches the ceiling that looms high above. The room is tricked out with floor-to-ceiling bookcases, an octagonal poker table by the window overlooking the tree-lined streets of DuPont Circle and a fat, chunky CBS Radio microphone off to the side, a memento of the media empire built by his father. This is the headquarters of La Palina Cigars.
While he has only been selling cigars for two years, Paley's boutique smokes are a revival of a brand created by his grandfather in Chicago in the 1800s. The new La Palinas—made in five varieties and counting, by four different manufacturers in as many countries—have begun to attract serious attention from the cigar community despite hitting the market with price tags of $20 and up at a time when most cigar smokers were looking for bargains. Paley's La Palina El Diario KB, a small, dark smoke with a kick, scored 93 points in this magazine, and one of his newer creations, a small-production, truncated lancero called the Goldie sold out almost immediately.
A tall, snappy dresser of 64 years with long, silver hair and a beard, Paley has occasionally been mistaken for Jonathan Goldsmith, the actor who portrays "The Most Interesting Man in the World" in the commercials for Dos Equis. While his CV isn't as superhuman as that of the fictional beer hero, Paley has an intriguing story all his own.
A Vietnam-war vet and college dropout, Paley served as a filmmaker for the U.S. Army, worked on propaganda for the U.S. Department of Defense, lived on a boat for several years after the war, tried the restaurant business for a time and spent some two decades as an addictions counselor, helping users battle their demons after winning a battle against addiction himself.
His full name is William S. Paley Jr., and he hails from wealth and fame. His father William S. Paley turned CBS Radio from a small radio network into a powerhouse company, founded the CBS television network and once bought the New York Yankees for the company. In addition to the microphone, Paley's office has a tall cabinet holding three 20-inch Sony televisions that his father kept tuned to the three major networks, the entire media world, for all intents and purposes, during his day. His mother, Barbara, known as Babe, was a fashion icon. His maternal grandfather, Dr. Harvey Cushing, was a renowned brain
surgeon, described by some as the father of modern neurosurgery.
Paley calls his childhood "extraordinary," for its taste of luxury, grand homes, gourmet food and even a valet to teach him the ropes, but it was also challenging. His father was a hard-charging, competitive lion of industry who played for keeps, and being his son could be a difficult task.
"He could always see the weak point," Paley says of his father. "As a son, nothing was right. It was very hard to live up to."
Paley never excelled at school, which contributed to his landing in Southeast Asia. "I did a year in college, didn't do well and I got drafted," he says. He ended up in Vietnam, was stationed in the field filming troops, sometimes in action. "I didn't kill anybody, I didn't get killed," he says. But the wartime experience had an effect on him. "I sort of had it." He—literally—drifted for three years on a Hinckley Sou'wester yacht. "It was like a floating commune," he says.
Paley had trouble finding himself. He tried selling yachts and dabbled in the restaurant business, and found success as an addictions counselor, helping people who went through what he went through.
"I had my own issues," he says of addiction, saying he got clean in 1984. "Addiction is choice-less behavior. It's the brain that's addicted. The mind doesn't want to be there."
Comments
4 comment(s)
Kevin Shah — Shah Alam, Selangor, Malaysia, — January 24, 2013 1:48pm ET
---
Patrick Morales — Covina, California, United States, — January 24, 2013 4:19pm ET
---
Andrew Szymczyk — March 16, 2013 10:55am ET
---
David Schroeder — McGuire AFB , New Jersey , United States of America, — March 16, 2013 3:54pm ET
---
You must be logged in to post a comment.
Log In If You're Already Registered At Cigar Aficionado Online