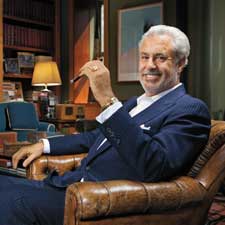 Paley's office in Washington D.C. is sprinkled with wood and leather and adorned with personal mementos, including some from his father's run at CBS.
La Palina's Next Act
Bill Paley spent his life trying to please his famous father, but found success making cigars like his grandfather
(continued from page 3)
Paley is quite comfortable following his own path in the cigar business. He says he doesn't want to be tied to one country or one blender, and he knows he needs help making his cigars. "I don't have the ability to be a blender myself," he says quite frankly. Describing the La Palina house style, he promotes "smoothness and flavor," saying "It has to be absent of bitterness."
He doesn't quite grasp the tasting note concept, doesn't taste the hints of coffee bean or the wisp of leather others get when they smoke cigars. He prefers to find harmonies in his cigars. "A cigar to me is like a piece of music. It can have a lot of elements, it can be orchestral."
Sitting back in that leather chair in his D.C. office, he takes another puff of his smoke. On the table in front of him, on a stack of books of art, lies a wooden sampler box of the original La Palina cigar brand from the 1920s. It was a box designed for traveling salesmen, with slots for each of the sizes. The box has been loaded with current La Palinas, the modern-day cigars far larger than the compartments made for their early 1900s counterparts.
"I don't think I had ever done something that made my family proud," Paley says. "Starting the cigar business allowed me to—rather than living up to what my father built, and all his expectations—to live up to my grandfather."
He holds the La Palina in his hand. "I think my father could take a lot of pride in this. I'm honoring his father. This just feels right."
Comments
4 comment(s)
Kevin Shah — Shah Alam, Selangor, Malaysia, — January 24, 2013 1:48pm ET
---
Patrick Morales — Covina, California, United States, — January 24, 2013 4:19pm ET
---
Andrew Szymczyk — March 16, 2013 10:55am ET
---
David Schroeder — McGuire AFB , New Jersey , United States of America, — March 16, 2013 3:54pm ET
---
You must be logged in to post a comment.
Log In If You're Already Registered At Cigar Aficionado Online