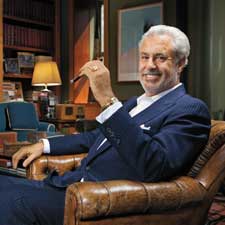 Paley's office in Washington D.C. is sprinkled with wood and leather and adorned with personal mementos, including some from his father's run at CBS.
La Palina's Next Act
Bill Paley spent his life trying to please his famous father, but found success making cigars like his grandfather
(continued from page 2)
After the death of his father in 1990 (his mother had died in 1978) Paley inherited Lightbourne House and visited  the Bahamas frequently. There he met the Garzaroli family, which makes Graycliff cigars in Nassau. Paley was originally looking for a signature cigar for the Lightbourne House, which he had fashioned into a bed and breakfast.
Paley loved cigars, but lacked experience in the industry and turned to others for advice. He went to Michael Herklots, who ran New York City's Davidoff shop on Madison Avenue at the time, asking his advice over lunch at New York's '21' Club. "I said, 'I need you to tell me what's wrong with the cigar,'—and he did. And I tweaked it."
Paley set out to commercialize his new cigars. He bought back the name from Altadis. (He says he spent $5,000 on the brand name, which at the time was defunct.) He worked with a designer, studied the old imagery and took an engraving of his grandmother and turned it into the image seen on his new cigar bands. In 2010, he was ready, and Paley unveiled his first La Palinas at the International Premium Cigar & Pipe Retailers trade show. Each of the cigars were made in the Bahamas by Graycliff Cigar Co., and each paid a form of tribute to his family. The La Palina 1896 was a limited-edition, named for the year his grand-father started making cigars, and each size in the La Palina Family Series was named after a member of his family. The least expensive has a suggested retail price of $18, the priciest sells for $23.
On paper, it was a lousy time to try and sell a $20 cigar, but La Palinas drew some interest, finding homes in high-end shops such as Davidoff. "He was very adamant about starting high-end, starting limited," says Herklots, now with Nat Sherman. "When you dig into the Paley story, it makes sense."
Paley admits he began in a way that runs contrary to most cigar brands. "I started backwards, with the super-premium first. I knew I would be pushing uphill." Right away, he reasoned he needed a less expensive version. He followed up in 2011 with the release of La Palina El Diario, turning to Alan Rubin of Alec Bradley Cigar Co. to help him make a less pricey blend rolled in Honduras at the Raices Cubanas cigar factory. El Diarios, made entirely of Central American tobaccos, have suggested retail prices about half that of the early La Palinas, right around $10 per cigar. The blend resulted in the highest-scoring La Palina to date, the 4 1/4 by 40 KB, which scored 93 points in the June issue of Cigar Aficionado.
"KB" stands for "Kill Bill," because the prototype of the cigar knocked Paley on his rear. "I wasn't able to finish smoking the first prototype," he said soon after the launch.
With its far more reasonable price point, El Diario brought the La Palina brand into many more smoke shops. Paley expanded further this past year, adding two more regular production brands: La Palina Maduro, also made in Honduras by Raices Cubanas, and the La Palina Classic, made in the Dominican Republic by PDR Cigar Factory.
He also created a limited-edition smoke made in Miami at El Titan de Bronze, a small cigar factory on Calle Ocho in the heart of Little Havana. The cigar, called the La Palina Collection Goldie Laguito No. 2, is made entirely by one person, Maria Sierra, who has been making cigars for more than three decades, most of them spent within Cuba's legendary El Laguito Factory.
"She rolls 100 cigars a day. It took her 100 days to roll this [run]," says Paley, describing the 1,000 boxes, each containing 10 Goldies. He lauds Sierra's cigarmaking skills, but all the evidence you need is in looking at one of her creations. The Goldies are stunning, slim smokes, with specialized flag tips called fans by some—the little tab of extra tobacco adorning the head begins ultra slim and fans out a bit.
Paley describes the Goldie as a tribute to women working in the cigar industry. The smoke is named after a woman (his paternal grandmother, Sam's wife), made by a woman (Sierra) in a factory run by a woman (Sandy Cobas) and sold by a woman—Courtney Smith, the national sales director for La Palina cigars.
Paley wants to make more limited-edition variations of the Goldie, the first of which sold out to retailers in two weeks. And he wants Sierra to roll them. "I've got her basically under contract for the rest of her career," he says.
Comments
4 comment(s)
Kevin Shah — Shah Alam, Selangor, Malaysia, — January 24, 2013 1:48pm ET
---
Patrick Morales — Covina, California, United States, — January 24, 2013 4:19pm ET
---
Andrew Szymczyk — March 16, 2013 10:55am ET
---
David Schroeder — McGuire AFB , New Jersey , United States of America, — March 16, 2013 3:54pm ET
---
You must be logged in to post a comment.
Log In If You're Already Registered At Cigar Aficionado Online