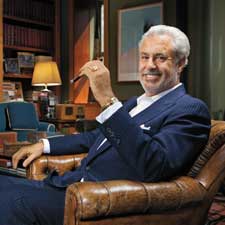 Paley's office in Washington D.C. is sprinkled with wood and leather and adorned with personal mementos, including some from his father's run at CBS.
La Palina's Next Act
Bill Paley spent his life trying to please his famous father, but found success making cigars like his grandfather
(continued from page 1)
Addictions counseling was both fascinating and fulfilling to Paley, and he did it for some two decades. But after so much time spent counseling, and with his children grown and off to college, he was ready to make a change. "I had done it long enough. I had been counseling my kids, be passionate—do what you want to do."
Paley loved smoking cigars. Before joining the cigar industry he was a twice-a-day smoker with a taste for Cubans. "My go-to smoke was a Hoyo Epi 2, and I loved the Monte 2s and Sancho Panzas. My tastes were built on Cuban tobacco."
"Like anything in my life I got interested in, I got obsessed with it," Paley says of cigars. When he originally thought about entering the cigar business, he first thought he had no place in the industry. "I laughed and said, 'Who are you to make a cigar?' " he recalls. "But I wanted to do something I was proud of. Then it occurred to me—it was in my blood."
The Paleys come from Brovary, a suburb of Kiev in modern-day Ukraine. In the days before the Russian Revolution, Kiev was part of the Russian Empire ruled by the tsar, and the Paley family served as his local representative, according to Bill Paley. The family was well off, with interests in lumber.
Things changed after the 1881 assassination of Tsar Alexander II. The Paley's Jewish heritage made them a target during what followed: an intense wave of anti-Semitic rioting and scapegoating known as pogroms. The family moved to the United States, settling in Chicago.
The Paley luck turned for the worse as family patriarch Isaac Paley lost his fortune. "He had capital, played with his capital and lost his money," says Bill Paley of his great-grandfather. That forced Isaac's son Samuel to take a job as a lector in a local cigar factory, reading novels, newspapers and magazines to the workers. The cigar business suited Samuel, and he was later promoted to a roller and then a blender. In 1896, he went out on his own, forming Congress Cigar Co. The company's first brand was called La Palina.
"He would roll in the window," says Paley. "He was a small man, he had a gravelly voice—probably from the 15 cigars he smoked each day. All I have is fond memories of him."
Eventually the cigar company grew, and in 1910 Paley moved it to Philadelphia. His son joined as vice president of advertising, and his love of radio inspired him to create "The La Palina Hour," which brought the La Palina name to the airwaves and increased sales of the 10-cent cigars. The company bought a group of local radio stations to promote La Palina cigars, but that small acquisition turned into far, far more than anyone could have dreamt.
The elder William S. Paley loved radio a lot more than he loved cigars. Congress Cigar Co. went away after Samuel retired in 1926. The La Palina brand was sold, eventually becoming a mass-market brand, and ultimately was owned by Altadis U.S.A. Inc. For the Paleys, that small group of radio stations grew into what became known as the Tiffany Network. CBS Radio begat CBS Television, and at one time in the early 1960s Paley's CBS had 14 of the top 15 shows in prime-time television, and CBS's news division became the world standard under his watch. William S. Paley became a rich and powerful man.
Among the trappings of the Paley fortune was the Lightbourne House, a family retreat he and Babe built in Lyford Cay, a gated community in the Bahamas not far from the capital city of Nassau. Babe, a renowned designer, actually decorated the house, to scale, in a warehouse near her home in Long Island and had everything shipped down to the Bahamas, to make it just so.
Comments
4 comment(s)
Kevin Shah — Shah Alam, Selangor, Malaysia, — January 24, 2013 1:48pm ET
---
Patrick Morales — Covina, California, United States, — January 24, 2013 4:19pm ET
---
Andrew Szymczyk — March 16, 2013 10:55am ET
---
David Schroeder — McGuire AFB , New Jersey , United States of America, — March 16, 2013 3:54pm ET
---
You must be logged in to post a comment.
Log In If You're Already Registered At Cigar Aficionado Online