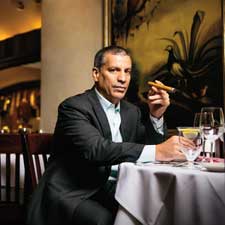 Charles Gasparino has made a name for himself as a business reporter who, in his own words "is going to break your chops."But cigar smoking is also a big part of his reportorial style.
Wall Street Watchdog
With a take-no-prisoners attitude and an eye to protecting the common investor's interest, Charles Gasparino of FOX Business Network is the financial reporter who makes people listen
(continued from page 3)
Newspaper internships led to The Tampa Tribune, which led to Bond World and The Bond Buyer, then to The Wall Street Journal, Newsweek, CNBC, and Fox. (The five-year-old Fox still trails the much older CNBC—which is available in 30 million more homes—in the ratings battle, but there have been recent indications that Fox is making some inroads.)
Through it all, cigars have been part of Gasparino's life. "My boxing coach—I boxed as a kid—used to smoke sometimes, sometimes even in the gym. My Uncle Al smoked. And I liked the smell of them." And then came their usefulness in his career.
He is smoking less now. "What I used to do, and what I still occasionally like to do, especially, for some reason, when it's cold out, I have a house in Connecticut, and I'll just sit in my backyard and smoke a cigar. If it's a crisp winter night, sitting in the yard with a glass of wine and a cigar is not a bad thing."
When he does smoke, his cigar choices include Macanudos, of any shape or size, though he often selects coronas or Churchills. At times, he picks a Romeo y Julieta, "and I used to do Upmanns, once in a while. But I kind of stick with Macanudos." He still goes to cigar bars. "I go to Bar and Books on Lexington Avenue" on the Upper East Side. "Club Macanudo" on East 63rd Street "is a big place.
"I give some time, though not as much as I should, to the Marine Corps Law Enforcement Foundation," which benefits, among others, children of Marines and Federal law enforcement employees killed on duty, "and they always have a smoking room after [an event]. I'll do cigars then."
Gasparino and his spouse of 13 years (though they have been together longer), Virginia Juliano, a vice president at the Showtime Networks, live in Stuyvesant Town on Manhattan's East Side; they also have that house in Connecticut. They have no children.
He wakes up at about 7 a.m. and begins his workday at home. He'll go to the gym or run, and later it's to the office. He arrives at the studio for his one o'clock appearance, and for another at three. "I can be here until seven or eight o'clock, writing a story. Last night the Knight Capital story came in late, and I did it then. My days are pretty full." He has very little use for spare time, he says, or for resting and relaxing.
He wants to make it clear that despite any personal political leanings, as a reporter he is without fear or favor, toward Democrat, Republican or whatever. "I cover this like I would cover baseball," he says. "The story really matters for me."
Obviously, he adds, "I've got an opinion." But for him, just as for other top business reporters, "We all, when it comes to reporting, we all do the same thing. We want a story. And we see stories as vehicles for informing people about business." And when that business is Wall Street, he says, it's "all about explaining to an average person an institution that is somewhat corrupt."
Or, to put it another way, as he has put it earlier in the interview, it can sometimes involve getting "to the heart of just how Wall Street tries to fuck people."
You must be logged in to post a comment.
Log In If You're Already Registered At Cigar Aficionado Online