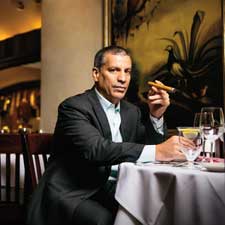 Charles Gasparino has made a name for himself as a business reporter who, in his own words "is going to break your chops."But cigar smoking is also a big part of his reportorial style.
Wall Street Watchdog
With a take-no-prisoners attitude and an eye to protecting the common investor's interest, Charles Gasparino of FOX Business Network is the financial reporter who makes people listen
(continued from page 2)
He leans noticeably to the right, but he has no favorites, he says, despite his criticism of the president. Republican or Democrat, liberal or conservative, no matter how influential, he will take them on, he says, when he feels they need taking on. When he was reporting last year on whether and when the mighty Lloyd Blankfein, chairman and CEO of the powerful Goldman Sachs investment banking and securities firm, might be leaving his position, Blankfein (who is still there) said, "I'm tired of Gasparino; I wish he would quit." Yet many Wall Street execs prefer to curry Gasparino's favor—do lunch, act as sources, ask him to phone.
He didn't vote for John McCain in 2008, nor did he vote for Barack Obama. He says he refused to vote—"I reserve my right not to vote—which I didn't do last time." He is, he says, "a registered independent."
These days, especially in his New York Post columns, he roundly criticizes the president as a failure when it comes to the economy and says he plans to vote for Mitt Romney. "I don't think that Obama really gets economics," he says. "I think that's the scary thing about him. And on top of that, he kind of surrounds himself with people that don't. And the people he surrounds himself with that do, he just pushes them aside."
His focus, though, he says, is Wall Street, not politics. "Yes, I do stories that help people decide where to put their money. I did a big story for The Huffington Post and on air too about why I thought the Facebook [initial stock offering] was a piece of shit, and stay the fuck away, and here are the five reasons you want to stay away. I do some stuff like that. But I generally stay away from stock picking. I thought the Facebook thing was bigger because it was much more of an institution. It represented a lot more than just a stock. Here was this heavily hyped thing with an unproven business model. Facebook hired a lobbying firm to pitch the story to reporters, and if it was that good why do you have to hire a lobbying firm? There were a lot of red flags, and that was a window into how Wall Street works. That's what I try to do. Average investors need the Street now to save for retirement, through 401(k)s, and you buy stocks. You need Wall Street. It's a necessary evil."
Despite his less-than-rosy depictions of the ingrained establishment of the financial world, Gasparino wants to make it clear that he's "pretty much a capitalist, not an Occupy Wall Street dude. I think where Occupy Wall Street sort of veered wrong, besides the violence and some of the other stuff, and the lack of a real message, is they tried to equate Wall Street with capitalism. Capitalism would allow Wall Street to go under. Wall Street's about crony capitalism. Once you understand that dynamic, you understand this is not the free market here. This is big business with connections to government, that government needs for a lot of reasons—for the very fact that they need banks to control the money supply. The Federal Reserve increases or decreases the money supply by selling or buying Treasury securities from the big banks. It needs them around. That's why they bail them out. This is a very incestuous thing with government, and I don't think people get that. Clearly the Occupy Wall Street people didn't get it, because they thought that was capitalism unfettered, screwing everybody. It wasn't. It was a business that has close ties to government, and benefits from government largess, and still does to this day."
Gasparino didn't come to business and economics at an early age. He was born in the Bronx and grew up in Yorktown Heights, New York, in the northernmost suburbs of upper Westchester County, in a working-class Italian-American family, his father an ironworker. "I liked to write," he says, "and I started working for the Pace University newspaper as an undergraduate. I got good enough at it that one day I went to my hometown weekly newspaper in Westchester, the North County News, and I said I'd like to be a freelance writer. I made $20 a story. In the early and mid '80s, I used to cover high school sports, community meetings."
His parents, though, "didn't want me anywhere near this profession. There was a UPS plant behind our house, and if I could have gotten a job there and made $15 an hour as a teamster they would have been pretty happy. Journalism was foreign to them."
He has said that his father hated journalists because his dad was a fervid supporter of Richard Nixon, and was furious at what they did to him.
His parents would also have been happy if he had gone into law, he says—"That was more concrete. My brother is a doctor, by the way. Working on Wall Street—very concrete. Being a journalist was pie in the sky."
But he went to graduate school for journalism at the University of Missouri. "I also did something else. Because my parents hated journalism so much, it was ingrained in me that I needed a job coming out of journalism school, so I started taking a lot of business courses. I thought at the very least I could get a job as a PR guy and rewrite press releases for IBM. That's why I got into business journalism. I never thought it would be what it is today, which is maybe the most important part of journalism. It's very big. And just when I got into it, it was starting to become a big thing."
You must be logged in to post a comment.
Log In If You're Already Registered At Cigar Aficionado Online