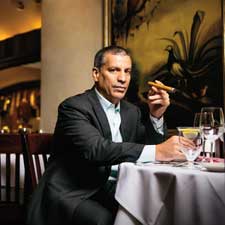 Charles Gasparino has made a name for himself as a business reporter who, in his own words "is going to break your chops."But cigar smoking is also a big part of his reportorial style.
Wall Street Watchdog
With a take-no-prisoners attitude and an eye to protecting the common investor's interest, Charles Gasparino of FOX Business Network is the financial reporter who makes people listen
(continued from page 1)
This afternoon's exclusive concerns Knight Capital Group, the giant stock-trading firm whose software glitch on August 1 roiled the stock markets, cost it $440 million and nearly led to its demise. Several days afterward, six firms put a total of $400 million into the company to rescue it, in exchange for securities convertible into Knight common stock at $1.50 a share. Gasparino reveals that Scottrade Inc., another major financial services company, has now been given some of that pie. And he explains what this means to the middle-class investor.
"Understand how it works," he says, sitting in his office a few minutes after his report to the nation. He speaks rapidly and precisely, like a man in a hurry who knows where he wants to go. And that's what he is. "You have to get the zeitgeist of how it works, like on this story in particular. What you had with Knight was six firms came in, bailed out Knight Capital. Sounds good. But you're a shareholder in Knight Capital. That screw-up, that trading error, destroyed the firm, and even with the bailout your shares fell to almost nothing"—the stock lost 70 percent of its value—"because with the bailout you were completely diluted, because they had to issue more shares. The new investors will make out like bandits. It's a no-lose situation." (As he speaks, Knight Capital Group's shares are at a price of $2.75.)
"Here is what I found out last night—they cut in at the last minute, after the deal was made and everybody knew the firms involved with it, they cut in another firm, so it can be part of this no-lose proposition. It's called Scottrade, a big online retail brokerage. Why did they do that? Because Scottrade sent business Knight's way in the past. They also helped Knight" by giving it business after the disaster, when its continued existence was doubtful. "So Knight went to all the other firms and said, will you please cut them in? Now, why would the other firms agree to give up some of their winnings?"
The reason was "they all do business with them. It's just a little insight into the convoluted, conflicted ways Wall Street works. How they kind of take care of themselves. The upshot is, they don't necessarily take care of you. And it's just something you should keep in mind. And once you kind of get the idea of how this works, I think the average person will be better off."
He's written books about this and similar situations, he says "about the conflicted nature of Wall Street. That's what gets me going—the conflicts of interest that involve Wall Street, and how it's such an incestuous business. It's interesting and important and necessary for the average guy to understand."
Gasparino is 50 now, and gray is creeping slowly across his close-cropped and otherwise black hair. He maintains his rugged and very Italian good looks, and is in prime physical shape—he works out and runs regularly. He is dressed in his TV costume of dark gray suit, light blue shirt and blue and red striped tie. His office, however, runs counter to his consummately neat appearance—it is disheveled, with papers and books scattered randomly about, as though there are much more important things in his life than the need to keep his desk in order. He has offered a visitor a seat, but the chair must first be cleared of its contents, including a suit, similar to the one he is wearing but perhaps patiently awaiting a voyage to the dry cleaners.
Gasparino is swift to attack anyone he feels is doing ill, harming or ignoring the common investor—taking them, so to speak, to the cleaners. He boxed as a youth—he has said that one of his few regrets is that he didn't take part in the Golden Gloves—and his ring experience is in keeping with his pugnacious reputation.
He has been offering his insights throughout his more than two decades covering Wall Street. As his official Fox biography proudly notes, before moving to the network he was an on-air editor at CNBC and broke major stories involving the financial crisis, including the government bailout of AIG, details on the Lehman Brothers collapse, changes at Morgan Stanley and Merrill Lynch, and the government bailout of the financial system—the Troubled Asset Relief Program. He helped cover the demise of Bear Stearns. He was a reporter at Newsweek, where he gained major exclusives on Wall Street and corporate America, the New York Stock Exchange under Richard Grasso, and the battle against corporate crime by then-New York State Attorney General Eliot Spitzer. At The Wall Street Journal, he won the New York Press Club award for best coverage of the Wall Street research scandals.
Indeed, the titles of the books he has authored explain fully where Gasparino comes from: Blood on the Street: The Sensational Inside Story of How Wall Street Analysts Duped a Generation of Investors (2005); King of the Club: Richard Grasso and the Survival of the New York Stock Exchange (2007), including the reaction to Grasso's nearly $140 million deferred compensation pay package; The Sellout: How Three Decades of Wall Street Greed and Government Mismanagement Destroyed America's Global Financial System, a New York Times bestseller that won the Investigative Reporter and Editors award for best book of 2009; and Bought and Paid For: The Unholy Alliance Between Barack Obama and Wall Street (2010).
A man of all media, he doesn't confine himself to Fox, or books. There's The Huffington Post, The Daily Beast, The New York Post and FoxBusiness.com, and he tweets on Twitter. Which makes him a journalist of the future as well as the present, an example of what the ever-changing media world may hold in store, where it may be necessary to be active and on top of all media platforms in order to survive.
You must be logged in to post a comment.
Log In If You're Already Registered At Cigar Aficionado Online