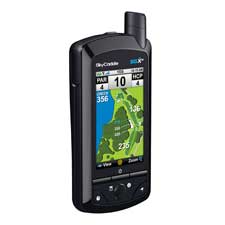 The SkyCaddie SGXw offers three-inch color screen with detailed views of almost 30,000 courses.
GPS to the Max
Like the real estate people say, the three key factors are location, location and location
(continued from page 3)
Legal Peek-a-Boo
As for those scoundrels who read Cigar Aficionado (yes, I'm talking to you, Tony Soprano), it's been a year of mixed news. In early 2012, the Supreme Court ruled that it's illegal for law enforcement officials to attach a GPS tracking device to your car without a search warrant. Ah, but what about that handy tracking device you're already carrying along with you—your GPS-equipped mobile phone? Just ask Melvin Skinner, a.k.a. "Big Foot," who was apprehended hauling 1,100 pounds of marijuana in a motor home out of Mexico. The authorities got the number of the phone he was carrying, and the GPS data took them right to his Texas motel doorstep. Melvin argued this kind of tracking violated his Fourth Amendment rights, but the 6th Circuit court wasn't buying it. In fact, it compared this process to using a suspect's scent to track him down.
So there you have it, my friends. If you can't do the time—or the place—don't do the crime.

Contributing editor Steve Morgenstern writes about technology for Cigar Aficionado.
You must be logged in to post a comment.
Log In If You're Already Registered At Cigar Aficionado Online