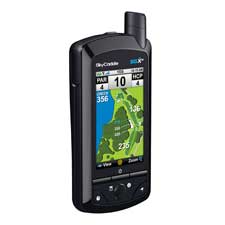 The SkyCaddie SGXw offers three-inch color screen with detailed views of almost 30,000 courses.
GPS to the Max
Like the real estate people say, the three key factors are location, location and location
(continued from page 2)
For the ultimate fairway GPS companion, we sacrifice wrist-based portability for the hand-held SkyCaddie line. You get a three-inch color screen with detailed views of almost 30,000 courses—the company actually sent people to walk the courses to get accurate measurements, a job that's as valuable to you as it probably was boring to them. Want a closer view of a fairway feature? For an increasing number of courses an interactive zoom feature delivers precisely the view you need.
A practical touch in the product design is the lack of touch required—instead of a touch-screen, which would quickly become grimy on the course, you get a precise, easy-to-use optical trackball. And the latest model, the SkyCaddie SGXw ($400), adds another tech enhancement in the form of wireless Wi-Fi hotspot access for downloading course layouts (the version without Wi-Fi, nearly identical otherwise, runs $50 less).
Which does bring up one glitch in the SkyCaddie system. While basic course information is preloaded into the system, you have to be a member to access the detailed maps you really want. Annual membership (for unlimited downloads) runs $30 within a state, $50 nationwide and $60 worldwide. Not exactly chump change—but you can probably win it back quickly enough off the opponent who can't figure out precisely where to lay up when confronting that nasty sand trap on the back nine.

Run!!!!!!
Alright, I confess right up front that if Godzilla were clomping his way up Fifth Avenue looking for a tasty tidbit, I'd probably be the first piece of kosher sushi he'd grab—a runner I'm not. But as a tech aficionado, I can certainly appreciate the ways GPS has been used to make training more manageable, easier to track and, if you're the type, I suppose enjoyable.
One of the most impressive products I found is the Nike+ SportWatch GPS ($150). This is actually a two-part system, which to me is a significant part of its appeal. Many of you have probably seen those little oval pucks Nike developed in concert with Apple a few years back for their Nike+ iPod Sport Kit. It fits neatly into a special compartment under the lining in select Nike sneakers, but works just fine tracking your paces if you simply tuck it into a standard shoe, or even under the laces. The point here is that you are getting both a GPS-equipped watch, which will track your movements with pinpoint precision when loping along under blue skies, and the shoe sensor, which does the same when running under tree cover or even indoors—a winning combination.
It's a reasonably comfortable, good-looking device—a little large for everyday wear, but without the medical-equipment look you find with some competing products. While running, the basic display shows how far you've run, and a quick button press will bring up additional info including elapsed time and calories burned. The slick part happens when you get home and use the well-designed USB connector to upload your results to the free Nikeplus.com web site. Here you can see your course displayed on a map, obsess over every minute detail of your performance and get advice on enhancing your training regimen. Hmm…. Maybe if I start using the Nike+ system now, I will survive that Godzilla attack. After all, I don't have to run faster than Godzilla…. I just have to run faster than you.
If you prefer a more comfortable and wide-ranging training experience, Motorola's MOTOACTV GPS fitness tracker and music player ($250 for 8GB, $299 for 16GB) could be more your speed. In addition to a capable built-in GPS to monitor your movements, the Motorola system supports optional wireless Bluetooth headsets (the unit comes stock with more pedestrian wired buds), so you can enjoy your favorite workout mix without accidentally garroting yourself when you need to scratch an itch. The system can also pair wirelessly with a Motorola phone for data display and exchange, but only with Motorola devices, so it's best employed with a Droid. But even the rest of us get access to a very capable, free web-based service (connecting via Wi-Fi). And unlike the Nike+ system, which is limited to tracking running, the accelerometer-based Motorola has multisport potential, with support for cycling, elliptical machines, martial arts and even snowboarding.
On the Right Track
We think of a GPS system as a way to figure out where we're headed, but if you combine the satellite location technology with a cellular radio, all of a sudden you can figure out where something else is wandering—your dog, your grandma, your car. That's what PocketFinder from LBT offers, with compact devices that can be tracked via the web or smartphone.
The basic PocketFinder tracker ($150) is just two inches across and an inch deep—it fits easily in the palm of your hand. It comes in two nearly identical versions—only the clip provided distinguishes between the People version and the Pets version. Of course, there's no reason you can't attach one to your briefcase, backpack, belt or pretty much anything else you'd like to track. These versions are rechargeable—figure a charge will last two or three days. They're rugged, too, impervious to water, dust and shock. There's a different configuration for vehicle tracking ($190) that installs permanently and connects to the car battery. You sacrifice clip-it-to-anything portability, but don't have to worry about periodically attaching the device to the charging base.
When you log in to the PocketFinder service you'll not only see a Google Map view of the device's current location, but also its velocity, current speed and direction, and have access to a 60-day history of locations visited. You can also set alerts, with notifications via text message, email or mobile app if the device exceeds a speed limit you set, or travels outside an area you specify. I found the PocketFinder portable device extremely sensitive, (it located a signal indoors where portable GPS
navigation systems had no luck). There's no service charge for the first two months, then it's $12.95 a month in the U.S. and Canada, and 29.95 internationally. A reasonable price for keeping tabs on kids and pets and making sure your teenager isn't speeding toward Vegas at 90 mph.
You must be logged in to post a comment.
Log In If You're Already Registered At Cigar Aficionado Online