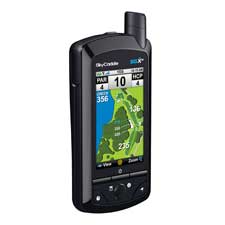 The SkyCaddie SGXw offers three-inch color screen with detailed views of almost 30,000 courses.
GPS to the Max
Like the real estate people say, the three key factors are location, location and location
(continued from page 1)
Another unit worth considering, the Magellan RoadMate 9055-LM, brings the big-screen experience into your car, with a substantial seven-inch display (you'll want to position it over the dashboard rather than the window, which is easy thanks to the long, flexible mounting bracket). The Magellan connects to your phone via Bluetooth, providing easy hands-free calling with great sound quality. You also get free lifetime traffic information, and access to AAA Tourbook guides. My favorite feature, though, is a $150 optional accessory, the Magellan Wireless Backup Camera. It isn't entirely wireless, of course—you will have to plug it into the backup light circuit for power—but there's no clumsy snaking of wires required between the camera in the back and the GPS unit up front. Suddenly you can see precisely what's going on behind you, whether that's an approaching bumper while parking or, far more important, a kid speeding by on a tricycle. If that's not worth $150, I don't know what is.
The Connected Car
Having a GPS system as part of your dashboard electronics is nothing new, but the latest trend adds more up-to-date information and entertainment options—connecting your car to the Internet while you're driving. This means you have the latest map information, along with updated points of interest, instead of the aging data loaded into a traditional in-dash GPS Music isn't limited to the junk food of commercial radio or even songs you've stored on an MP3 player—you can access streaming music services like Pandora for programming tailored to your tastes.
Depending on the system, you may even be able to keep up with Twitter and Facebook updates, order movie tickets or make a restaurant reservation from your car. And yes, you can make hands-free phone calls.
While some cars use their own built-in connection to the cellular network (the $50,000 Audi A6 Premium Quattro, for example), most take advantage of the signal you're already paying for and connect via your cell phone. Apps are created to display information directly on the dashboard screen, and to be compatible with the vehicle controls, whether that's a touch-screen or steering-wheel buttons or both.
You don't need to go the luxury-car route to have access to this technology; Ford, Hyundai and Toyota are all eagerly adding new online on-the-road features to their full range of vehicles. While car shopping, it pays to check out how the vehicle's online system works with your particular phone model, though; some may not be compatible with your current handset at all, while some deliver different features depending on the connected phone.
Fortunately, you don't have to buy a new car just to hop on the connected car bandwagon. Several manufacturers now offer aftermarket head unit systems with cell phone access to the Internet, which can be installed in a wide variety of existing vehicles. The Pioneer AppRadio 2 ($599) works with iPhone, iPhone 4s and specific Android models (you'll find the list at http://bit.ly/ytpgtz). The system comes with cables for the iPhones it services. However, Android owners will have to pony up
another $100 for a connectivity kit specific to their models.
At this writing there are 17 apps available for iPhone users and nine for Android, some free, others paid, with more added monthly. These include numerous streaming music sources, turn-by-turn directions and current traffic reports, local parking lot recommendations, access to your phone-based calendar information and even (when you're parked) the opportunity to show off your favorite digital photos in a slideshow. Voice control, as found in some car manufacturer's original equipment systems, would be a nice addition to the next version of the product, but at least you can toss your phone in the glove compartment and access any controls you need via your car's dashboard controls, with control layouts carefully tuned for easy access even while driving.

Your Link on the Links
When it comes to tackling your favorite golf course, and especially an unfamiliar course, a few key positional factors make all the difference: how far your lie is from the hole; how far you are from that nasty-looking dogleg, or sand trap; and what unpleasant surprises await beyond the tree line, where the fairway is just out of sight. All of that information can be yours with pinpoint precision thanks to portable GPS systems.
One of the most impressive solutions can be worn right on your wrist, as a watch. The Garmin Approach S3 ($350) is a handsome waterproof touch-screen timepiece preloaded with the layouts of over 28,000 courses worldwide. You get a visual image of the green along with distances to the front, back and middle of the green, plus layup and hazard distances. Looking for bragging rights after that last great drive? The Garmin S3 will measure shot distances precisely (unfortunately, there doesn't appear to be a way to dial in a little "sweetener"). If you choose to use the watch to keep score, you can track individual player performance, then save the results to your computer when you get home and print them if you like (erasing is also a viable option, of course).
You must be logged in to post a comment.
Log In If You're Already Registered At Cigar Aficionado Online