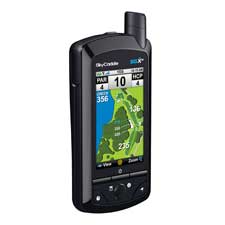 The SkyCaddie SGXw offers three-inch color screen with detailed views of almost 30,000 courses.
GPS to the Max
Like the real estate people say, the three key factors are location, location and location
Among the great cosmic questions that plague mankind, "Where the hell am I?" is high on the list. Fortunately, technology offers a partial solution to this existential crisis in the form of GPS, or Global Positioning System, a satellite-based navigation tool that can pinpoint your position anywhere on the planet.
You probably were first introduced to a GPS device when some acquaintance who previously displayed absolutely no sense of direction suddenly started showing up on time because he had put one in his car and received dead-on routing for anywhere he might go. But in the almost two decades since satellite navigation instruments debuted to the general public they have been put to a slew of new uses beyond the world of automotives, including golfing, boating, running, tracking and keeping tabs on criminals. But the GPS system was actually developed for none of the above.
Who do we have to thank for this celestial push in the right direction? The U.S. military. In the days of the Cold War, Soviet nuclear missiles were mostly land-based and immobile, making them tempting targets. The U.S., though, had most of its nukes loaded onto submarines, and accurately aiming them required the subs to know exactly where they were shooting from. Hence the GPS system, funded at an initial cost of $12 billion, back when a billion was more than a rounding error in the federal budget. The first GPS satellite was launched in 1978, but it took until 1995 for the system to become fully operational.
How It Works
The GPS system, run by the U.S. Air Force, figures out where you are using trilateration—it's similar to the triangulation in traditional navigation and surveying, but in three dimensions, since the signals sent from the satellites beam out in a circular pattern. Currently 31 GPS satellites are operational. At any given time the system uses 24 spread out to cover the globe, but keeps some spares up there at all times just in case. The satellites are also improved from time to time, and Lockheed Martin is now developing a more powerful, precise version called GPS III.
Fundamentally, the GPS system is all about timing. Each satellite sends out a uniquely identifiable signal with its current position and the time based on its built-in atomic clock, which is accurate to within a billionth of a second. Your GPS receiver latches on to as many satellite signals as possible. By comparing the time on earth with the time on the satellite, the receiver can figure out how far away it is from that satellite. Just one satellite signal tells you that you're somewhere on a big three-dimensional sphere around that satellite. If you can lock onto three satellites, however, the receiver can figure out where those three spheres intersect and calculate where you are in two dimensions. Add a fourth and it can figure out your altitude as well.
The level of technological precision involved in these calculations is really pretty stunning as the radio signals from the satellites are traveling at the speed of light. In fact, when the system was originally made available outside the U.S. military, timing errors were intentionally inserted to keep enemies from being able to target too accurately. In May 2000, President Clinton removed this restriction and, in the process, kick-started the civilian GPS market, by providing greatly enhanced tracking capability.
Portable Navigation Devices
Yes, your smartphone probably has a GPS built in—the FCC wants all of them to have this capability by 2018—but while that's great for finding your way while walking around town, it's still troublesome when driving. The screen is small, the sound is low when pitched against road noise and you're burning through already scant cell phone battery life. The dedicated portable GPS receiver, on the other hand, offers screens that are generous and sometimes positively capacious, they read out turn-by-turn directions loud and clear, and recent models have learned some very cool tricks.
One favorite is the TomTom Go Live 2535 M ($300), a unit with a five-inch screen that delivers an exceptional combination of navigation and information. "Live" is the key here: you get online access to a variety of live information services directly from the nav unit. Looking for the most inexpensive gas in the area? Tap the touch-screen. Want to perform a Google search, or find a restaurant on Yelp? It's built into the unit and, what's more, when the results pull up an address, you can tap it to navigate directly to it. The TomTom Live traffic service also goes beyond the standard road sensors to incorporate information from other drivers using connected units, and updates more frequently than standard traffic data systems. After the first year you will have to pay $9.99 a month for access to the Live services, but map updates for life are included with the unit.
You must be logged in to post a comment.
Log In If You're Already Registered At Cigar Aficionado Online