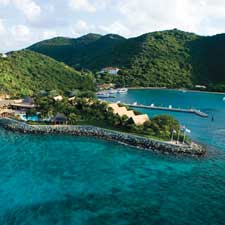 Private retreats are not for everyone, but Peter Island is huge by any standard with over 50 rooms and 1,800 acres that you can call your own.
The Caribbean's Finest
Our panel of travel experts pick their favorite destinations across the region, and the best hotels, restaurants and golf courses on each island
(continued from page 8)
Best Restaurant
TIE: La Cigale; Le Tastevin: On an island very well known for the quality of its food, these two have been longtime favorites. Romantic Le Tastevin has harbor views and its famous lobster bisque, while La Cigale sits right on the beach combining fine French cuisine with island informality. "It's hard to pick just one in the 'Culinary Capital of the Caribbean,' but Tastevin remains my favorite," says travel and food writer Lynn Seldon.
Bahamas
Best Large Resort or Hotel
Atlantis, Paradise Island: While food and service did not bowl over our very picky panelists, it proved impossible to argue with the mega-resort's unmatched one-of-a-kind facilities, including: hands-on dolphin, sea lion and stingray experiences; snorkeling the "ruins" of Atlantis; the 11 pools; extensive water park; over-water climbing wall; shark adventure; SNUBA; and the iconic "Mayan" temple. "It redefines large, is less relaxing than stimulating, but is the perfect place to party with multiple generations," says Becca Hensley. Michael Patrick Shiels echoes the sentiment: "With an innovative water park, shark-filled streams, underground aquariums, a casino and beach, Atlantis has something for everyone—except peace and quiet."
Best Small Resort or Hotel
Abaco Club on Winding Bay: This unique island retreat is managed by Ritz-Carlton but with a network of cabanas and cottages on a small scale, it is not your typical Ritz. "Conceived by Peter de Savary in the tradition of his Skibo Castle and Bovey Castle, the Abaco Club is pure Caribbean enchantment. No cars are allowed on club property, which extends two miles along curving bays with sugary sand beaches. The guest experience is all about relaxing ambiance, friendly service and barefoot elegance," says David Baum.
Best Golf
Abaco Club on Winding Bay: While the Bahamas have a few high-profile golf courses, they lack any concentration. Avid golfers are thus choosing a single standout experience and typically head here to experience what golf guru Baum describes as "the lightly played Abaco Club, a Scottish links inserted into a tropical landscape. Holes are laid out two-wide along Winding Bay. Only at the climactic finish does the routing leave the dunes for a bluff-top perch."
Best Restaurant
< 1 2 3 4 5 6 7 8 9 10 11 12 13 14 >
You must be logged in to post a comment.
Log In If You're Already Registered At Cigar Aficionado Online