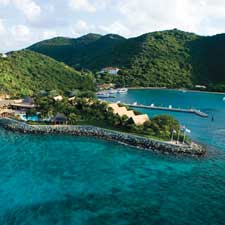 Private retreats are not for everyone, but Peter Island is huge by any standard with over 50 rooms and 1,800 acres that you can call your own.
The Caribbean's Finest
Our panel of travel experts pick their favorite destinations across the region, and the best hotels, restaurants and golf courses on each island
(continued from page 5)
Best Large Resort or Hotel
Half Moon: It's the setting, with villas along a private crescent beach, and laundry list of activities that won the day for this long-established property that recently became a RockResort. "Although its golf is utterly forgettable, the Half Moon Resort & Spa is an amazing place to stay with an incredible offering of things to do," says David Baum. Journalist Michael Patrick Shiels adds: "This, old-fashioned, time-honored resort has a British Colonial feel to it, and it should—it's home to the Royals when they visit." 
Honorable Mention: Ritz-Carlton Rose Hall. Our golfers and spa lovers preferred this more contemporary property. "With the best golf and the caliber of guest rooms Ritz-Carlton is known for, it does the best job here of overcoming service shortfalls typical of its neighboring properties," says Cigar Aficionado contributing editor Olmsted.
Best Small Resort or Hotel
GoldenEye: Guests can still sit at the desk where Ian Fleming, former owner of this private compound, typed away at his James Bond novels. Today GoldenEye, much refurbished and just reopened, is part of music impresario Chris Blackwell's Island Outpost collection of boutique resorts. "Music mogul Chris Blackwell's GoldenEye melds fun, funkiness and
finesse into one vacation experience. Colorful cottages dot the lagoon's edge, guests have untold numbers of activities and experiences from which to choose," says Wallace.
Honorable Mention: Round Hill. This resort overlooking Montego Bay impressed our panel with its array of lodging options, a vast selection of rooms, villas and homes.
Best Golf
Ritz-Carlton Rose Hall: While Half Moon narrowly edged out the Ritz for best resort, not even one of its fans spoke up for its golf course. Instead, every Jamaica vote went to Rose Hall, home to the excellent Cinnamon Hill course, and the marquee White Witch, the best on the island. "The White Witch casts a seductive spell cast with spectacular ocean views from 16 holes. The course weaves through rugged, heavily wooded hillside, reaching a peak elevation of 1,000 feet," notes Golf Odyssey's Baum.
Dominican Republic
Best Large Resort or Hotel
< 1 2 3 4 5 6 7 8 9 10 11 12 13 14 >
You must be logged in to post a comment.
Log In If You're Already Registered At Cigar Aficionado Online