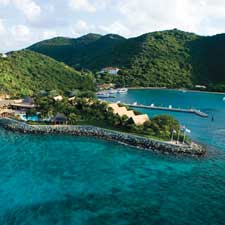 Private retreats are not for everyone, but Peter Island is huge by any standard with over 50 rooms and 1,800 acres that you can call your own.
The Caribbean's Finest
Our panel of travel experts pick their favorite destinations across the region, and the best hotels, restaurants and golf courses on each island
(continued from page 4)
Best Large Resort or Hotel
Ritz-Carlton: With nearly every vote cast there is no second place on Grand Cayman—the Ritz wowed with facilities, rooms, service, golf and most of all, food. As USA Today's Stoddart puts it, "Combine British colonial architecture with Grand Cayman's famous Seven Mile Beach and add a dash of star chef Eric Ripert's cuisine. It doesn't get any better on Grand Cayman." She was not alone: top travel agents Stacy Small, Anne Scully, Carrie Wallace and Michael Holtz, along with golf experts David Baum and Brian McCallen, even spa and travel writers Hensley and Carter, all loved the place. As Scully sums it up, "The Ritz-Carlton it is clearly the best on the island, and their many repeat guests agree."
Best Small Resort or Hotel
Cotton Tree: Our experts had little trouble debating the lodging merits of Grand Cayman—while the Ritz was nearly unanimous for best large hotel, the Cotton Tree got every single vote for smaller property. "Cottages comprise this intimate property—less Caribbean than high design, which actually really works for the Caymans, since it's a different sort of island in the first place," says Hensley, adding that, "It is as if you are visiting your rich uncle's house while he is out of town."
Best Golf
Blue Tip: Not many 9-holers impress our experts, but this design by Greg Norman at the Ritz-Carlton won over our most diehard golf critics, including former Golf Magazine editor Brian McCallen. No other course got a single vote.
Best Restaurant
Blue by Eric Ripert: It's not surprising that our grand winner for best in the entire Caribbean was also best on its home turf, taking every vote cast—and a lot of votes were cast. "Blue, by Chef Eric Ripert of New York's Le Bernardin, is spectacular. Dining at the Ritz-Carlton may be expensive, but it is extraordinary," says David Baum. Our travel writers, food writers and travel agents were all in agreement.
Jamaica
< 1 2 3 4 5 6 7 8 9 10 11 12 13 14 >
You must be logged in to post a comment.
Log In If You're Already Registered At Cigar Aficionado Online