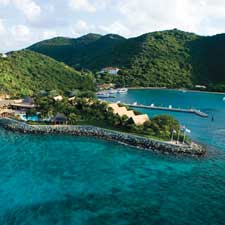 Private retreats are not for everyone, but Peter Island is huge by any standard with over 50 rooms and 1,800 acres that you can call your own.
The Caribbean's Finest
Our panel of travel experts pick their favorite destinations across the region, and the best hotels, restaurants and golf courses on each island
(continued from page 2)
Peter Island, British Virgin Islands
There are two types of "private islands": resorts occupying their own island and those allowing just one group at a time for private takeovers. Peter Island is both, a small resort on an 1800-acre paradise that is often taken in its entirety but does not have to be. There are three villas and 50 rooms and suites, a 10,000-square-foot spa, four restaurants and bars, and a full-service yacht club with charters, crewed sailing and dive shop. "Truly a private island resort, this intimate, family-owned resort hotel manages to be fancy and earthy at once…with excellent food and gorgeous beaches," says pampered journalist Hensley. Fodor's Travel Editor Arabella Bowen and luxury travel writer Kelly E. Carter were among Peter Island's many vocal proponents.
Honorable Mention: TIE Necker Island, British Virgin Islands; Musha Cay, Bahamas.
This was a battle of celebrity owners, with Sir Richard Branson's Necker Island, a longtime favorite of our panel, against the newcomer, magician David Copperfield's Musha Cay. As top-tier travel agent Anne Sully explains, "I love Necker Island but Musha Cay is giving Sir Richard Branson heavy competition—you win whichever you choose."
Best Restaurant, Caribbean
Blue By Eric Ripert, Ritz-Carlton Grand Cayman
Our experts could not find enough good things to say about this sole Caribbean outpost by the chef of New York's Le Bernardin, acclaimed for his wizardry with all things seafood. "Some of the best seafood in the Caribbean—actually in the world," notes travel journalist Lynn Seldon, while travel agent to the stars Anne Scully quickly adds, "I am fortunate enough to have been invited to many of the great tables around the world and this was truly one of the best!" Blue showcases locally caught and responsibly fished seafood, with three-, four- and seven-course tasting menus. With over 800 selections, Blue has won Wine Spectator's Award of Excellence annually since 2008.
Honorable Mention: The Cliff, Barbados.
As its name implies, it occupies a gorgeous cliff-edge setting in St. James and features fresh seafood and other dishes with a Pacific Rim twist.
Best Spa, Caribbean
< 1 2 3 4 5 6 7 8 9 10 11 12 13 14 >
You must be logged in to post a comment.
Log In If You're Already Registered At Cigar Aficionado Online