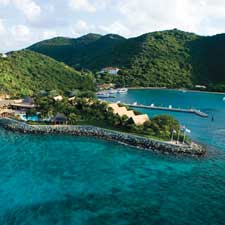 Private retreats are not for everyone, but Peter Island is huge by any standard with over 50 rooms and 1,800 acres that you can call your own.
The Caribbean's Finest
Our panel of travel experts pick their favorite destinations across the region, and the best hotels, restaurants and golf courses on each island
(continued from page 13)
Best Small Resort or Hotel
Peter Island Resort: This luxury property on its own 1,800-acres also won for best private island in the Caribbean and it is easy to see why with a full marina and wide range of watersports, lavish spa and deluxe accommodations. It was especially popular with our many high-powered travel agents, who recommended it enthusiastically, and one of them, Carrie Wallace, sums up the appeal: "Peter Island is an understated hideaway that pampers those who love the idea of private-island isolation."
Best Restaurant
Grilled Lobsters: Our opinionated panelists could not agree on exactly were to go, but they did note that when it comes to eating out in the British Virgin Islands, grilled lobster is the way to go, plucked fresh from the ocean, cooked with the least possible fanfare and ideally eaten with your toes in the sand. Popular choices included the Anegada Reef Hotel, which Stacy Small calls the "best grilled lobsters in the world!" Chad Clark loves Abe's Little Harbor on Jost Van Dyke, which the upscale travel agent described as "a dingy, small, dilapidated shack on the water that serves the most incredible lobster dinner anywhere." He even sent personal photos to prove his point.
Larry Olmsted celebrates 16 years of writing for Cigar Aficionado, where he is a contributing travel editor.
< 1 2 3 4 5 6 7 8 9 10 11 12 13 14
You must be logged in to post a comment.
Log In If You're Already Registered At Cigar Aficionado Online