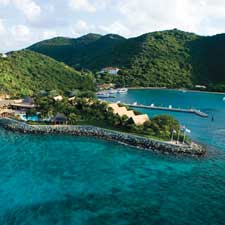 Private retreats are not for everyone, but Peter Island is huge by any standard with over 50 rooms and 1,800 acres that you can call your own.
The Caribbean's Finest
Our panel of travel experts pick their favorite destinations across the region, and the best hotels, restaurants and golf courses on each island
(continued from page 12)
Sandy Lane/Green Monkey: Again it was unanimous, despite other high-profile courses on the island, and the only debate was between Sandy Lane's more accessible but excellent Country Club course and its pricey and very limited Green Monkey, unlike any other, "A spectacular Tom Fazio design that cost $50+ million to build," according to golf writer Brian McCallen. Baum calls it a "technically and aesthetically superlative design, a dream come true for golf-course trophy hunters. Every hole either descends into a stunning limestone quarry or reveals a view of the Caribbean Sea."
Best Restaurant
The Cliff: Our grand winner for best eatery in the Caribbean, the Cliff is perched on the edge of the sea and infuses Caribbean ingredients with Asian flair, such as Thai Red Curry Mussels or local swordfish chargrilled with yellow curry sauce and coriander vinaigrette.
United States Virgin Islands
Best Resort or Hotel, Any Size
Caneel Bay, St. John: Back in the 1950s when Laurance Rockefeller created his RockResorts chain by surveying land from the sea and air to find the most beautiful spots, he built Caneel Bay. Half a century later it is a Rosewood resort, and sits entirely within the pristine Virgin Islands National Park. Almost every voter commented on the quality of the resort's beaches. "Sure, it's in the middle of protected national park, guaranteeing a pristine environment forever. And yes, its 166 serene, tasteful rooms are well camouflaged by 170 acres of lush grounds. But in the end, it's the seven—count 'em—intimate beaches that make Caneel stand out," says Stoddart.
Honorable Mention: TIE Westin, St. John; Ritz Carlton, St. Thomas: Popular with families and divers, the Westin occupies a generous 47-acre secluded site, while the Ritz-Carlton was singled out for its overly gracious service, a standout for even the world-class chain.
British Virgin Islands
Best Large Resort or Hotel
Little Dix Bay: Rosewood's sister property to Caneel Bay, which won for the U.S. Virgin Islands, Little Dix Bay fared even better, sweeping the category for the British Virgin Islands. Super-agent Anne Scully calls it, "Another personal favorite, its crescent-shaped beach with powdery white sand and acclaimed Sense spa makes this a haven for adults and children alike. The resort is incredibly romantic, but has a fantastic children's program as well."
< 1 2 3 4 5 6 7 8 9 10 11 12 13 14 >
You must be logged in to post a comment.
Log In If You're Already Registered At Cigar Aficionado Online