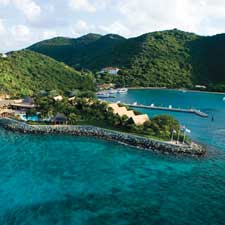 Private retreats are not for everyone, but Peter Island is huge by any standard with over 50 rooms and 1,800 acres that you can call your own.
The Caribbean's Finest
Our panel of travel experts pick their favorite destinations across the region, and the best hotels, restaurants and golf courses on each island
(continued from page 10)
Best Resort or Hotel, Any Size
TIE: Guanahani; Eden Rock: No island had as many hotels in contention as tiny St. Barths where the properties are small but the overall quality very high. "I can't get enough of Hotel Guanahani…very French ambiance—such a romantic stop. As if Paris put on flip flops but still donned a little black dress," says Hensley. "In an epicentral location in St. Jean's Bay, this place is happening, particularly during high season.  The beach is great, and foodies won't be disappointed!  If you want to be au milieu de l'action, Eden Rock is for you," says Wallace. It also has one of the region's most unique luxury lodging options according to travel agent Scully: "Their Ultra Luxe Villas are their trademark, especially 'Rockstar,' which houses the recording studio where John Lennon recorded "Imagine". It is among the most coveted accommodations in the Caribbean."
Honorable Mention: TIE: Hotel Isle de France; Le Toiny: The former has "location, location, location on the island's longest, widest beach," attracting jet-setters, according to Stoddart, while Le Toiny takes the opposite tact according to Wallace: "Intimate, quiet, secluded, romantic. For those who just want to escape the world, Le Toiny is the perfect choice." 
St. Kitts & Nevis 
Best Large Resort or Hotel
Four Seasons: The champion of champions, this resort received more votes than any other in the poll—and was a unanimous choice. Many panelists remarked that it is better than ever following a multiyear restoration from hurricane damage and it was already awesome before. "The legend has returned and our clients are packing their bags to revisit an all-time favorite," says Scully. Wallace echoes the sentiment: "We're thrilled this resort has reopened, and it's looking better than ever. Four Seasons Nevis really offers everything a full-service resort should: golf, spa, villas, beach, activities, kids' club, many restaurants and pretty facilities. Guests want for nothing!" More of the same from Kelly E. Carter: "This luxury resort is better than ever after the hurricane damage."
Best Small Resort or Hotel
TIE: Montpelier Plantation; Nisbet Plantation: Several former sugar plantations on Nevis are now luxury boutique resorts and these two are the favorites. Nisbet is frozen in time, as Stoddart explains: "A restored 1778 plantation inn, this is the unhurried old-time Caribbean at its best—no phones, no TVs and afternoon tea served in a proper Great House." Montpelier is a Relais & Chateaux property set in the mountains but also featuring a private beach club below, renowned for its culinary excellence.
Best Golf
Four Seasons: Nevis and the Four Seasons again bowled over the larger sister island of St. Kitts and its newer properties, garnering every golf course vote along with every large hotel vote. Golf writer Michael Shiels explains the charm: "You'll share the golf course with monkeys and the pool with celebrities, as Four Seasons Nevis is known as a Hollywood hideaway. Robert Trent Jones II took full advantage of the panoramic ocean views when he designed golf holes high above the resort and the neighboring island of St. Kitts, even incorporating old sugar mill ruins alongside the tee box."
< 1 2 3 4 5 6 7 8 9 10 11 12 13 14 >
You must be logged in to post a comment.
Log In If You're Already Registered At Cigar Aficionado Online