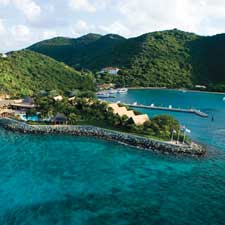 Private retreats are not for everyone, but Peter Island is huge by any standard with over 50 rooms and 1,800 acres that you can call your own.
The Caribbean's Finest
Our panel of travel experts pick their favorite destinations across the region, and the best hotels, restaurants and golf courses on each island
(continued from page 9)
Graycliff, Nassau: This classic in-town eatery blends old-world charm with an upscale take on local cuisine. As travel writer Shiels describes it, "High ceilings, sofas and a parlor setting take you a million miles from any beachy thoughts
of Jimmy Buffett. In a building dating to 1740, you'll experience a historic meal of sophisticated Bahamian dishes, followed by cognac and cigars, in a residence once occupied by a governor." Cigar Aficionado's contributing editor Olmsted puts it more bluntly: "A far better choice for a big night out than the overpriced and overrated resort eateries of nearby Paradise Island."
Anguilla
Best Resort or Hotel, Any Size
Viceroy: The design, rooms, beach and low density of this fast-rising Caribbean star won over panelists of every ilk, from Fodor's Arabella Bowen to travel agents specializing in high-income clients, such as Stacy Small and Anne Scully, who says, "This is a client favorite. Designer Kelly Wearstler has put her mark on this resort and it could not be more beautiful." It also won over journalists such as USA Today's Stoddart and Becca Hensley who added, "The Viceroy rocks with 35 acres of beachfront space."
Honorable Mention: TIE: CuisinArt Golf Resort & Spa; Cap Juluca: Cap Juluca is the island's classic and thrives on its gorgeous setting, as Stoddart explains: "This place is all about the beach, a luscious mile-long curve of silky white sand called Maundays Bay. Strung along the beach is a Moroccan vision in white of one- and two-story domed, arched villas, some with private pools. Take me to the Casbah!" Much newer CuisinArt has the island's best golf course and a focus on service and fine dining. "CuisinArt does everything really well, consistently. The food itself is a key reason to go—foodies will love their cooking classes, chef's table and hydroponic farm," says Bowen.
Best Golf
CuisinArt Golf Resort & Spa: This only recently became a golf resort when it took over Temenos, a spare-no-expense Greg Norman dream design originally built to anchor an enclave of high-priced villas. Because of its very limited access, Temenos, one of the best courses in the Caribbean, never got its due, but now as part of the larger resort it will quickly gain prominence—and already has for golfers David Baum, Brian McCallen and George Ruff.
Best Restaurant
Blanchard's: Famous for their line of Vermont-made gourmet dressings and sauces under the Blanchard & Blanchard label, this husband-and-wife team packed it all up to leave New England and open a restaurant on Anguilla. Nearly 20 years later, the fusion cuisine and barefoot attitude—or lack of attitude—has won legions of fans including USA Today's Stoddart, Fodor's Bowen, travel agent Small and other panelists. Next door is the even more casual Blanchard's Beach Shack.
St. Barths
< 1 2 3 4 5 6 7 8 9 10 11 12 13 14 >
You must be logged in to post a comment.
Log In If You're Already Registered At Cigar Aficionado Online