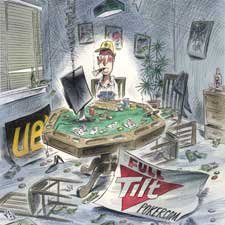 Illustration/Gary Hovland
Is the Online Poker Party Over?
Poker takes a hit as the Feds crack down on internet gambling
(continued from page 1)
News of the sale remains quiet for the following four weeks. So quiet, in fact, that I figure my friend was misinformed or that the deal has fallen through. But, of course, as everyone who follows this sort of thing now knows, on July 31 the transfer does happen. In a backroom deal brokered by the DOJ, PokerStars purchases Full Tilt. It gets announced that players in America and abroad will be paid off. Optimists view the event as the first step toward legalization of online poker in the United States.
Then it is revealed that the DOJ plans to make the American payoffs as it sees fit—i.e., when, if, and how the Justice Department feels like it. Soon after, Republicans at the presidential GOP convention in Tampa voice support for the prohibition of online gambling. Legislation to legalize the game nationally seems to have stalled out. Save for recently enacted sate laws that will allow online poker to be played within Nevada and casino-friendly Delaware, nothing really seems to have materially changed.
Clearly, the likelihood for legalization of poker across the U.S. is not in the immediate offing. "I expect that [state-by-state legalization] will be a litmus test," says veteran poker pro Barry Greenstein. "It will become clear that it's not terrorists or bunches of young kids or gambling addicts playing poker. [Lawmakers] will see that it's mostly people who like to play games and have a couple hundred bucks in their accounts. Maybe these Reefer Madness worries will go away." A best-case scenario would lead to some kind of wide-reaching legalization, even if it is state by state. If that were to happen, Greenstein says, "I'll be looking forward to a second poker boom."
But professional poker players can't wait for that. Greenstein, who still benefits from his sponsorship deal with PokerStars, talks about "having been literally decimated" by poker's downturn, gone from playing $2,000/$4,000 no limit to $200/$400 and having his income cut by some 90 percent.
Back in the day, when more money was floating around the live and online scenes, Greenstein and most of his poker-playing compatriots spent their profits as if the card party would never end. On top of that, he adds, "A lot of  us poker players are notoriously bad stock investors. While I still make more money at poker than I could in the private sector"— before turning to poker fulltime, Greenstein had been a software developer in Silicon Valley—"I struggle to meet my financial responsibilities and have cut things back."
What happens if online poker doesn't return the way Greenstein hopes and the economy fails to suddenly jack up with the kind of money that made things so lucrative for the pros? "The game will go back to what it was before," he says, leaving the impression that it will be workable. "But that's okay for me. I'm not flamboyant and I don't mind working hard. People made money at poker before online, and we'll make money at it after online."
As rough as it's been for the Greensteins of the world, the fall of online poker has been harder on the game's less entrenched. For successful poker players at the mid-stakes—anonymous guys who made in the low six-figures online—it has been game over. Soon after busting out of the million-dollar buy-in tournament, Andrew Robl rattles off friends who've quit the game to go back to college, enter family businesses and get licenses for brokering real estate and stocks. Robl, who was covered four years ago in Cigar Aficionado, as part of a story on successful young online pros, had already begun migrating into the cash games before online poker had imploded. But at the time, online games accounted for the bulk of his income. "Gambling has taught me that a lot of things happen that are out of your control," he says. "Sometimes you play every hand perfectly and still lose all your money. So it gave me some perspective. I figured I could support myself, even though life would be less convenient."
For Robl, the poker world's shake-up proved to be a formative experience. He adjusted to the live, high-stakes world in terms of both play and demeanor. Picking up the etiquette of playing poker against older, wealthy amateurs, Robl blends in like a favorite son, dressing up a little, not getting overly involved in dissecting hands or making the amateurs feel uncomfortable. Overall, he says, while he misses the convenience of online, he's one pro who is enjoying the opportunity to play lots of live poker. "It's more natural to be at a poker table and interacting than it is to be in front of a computer all day," says Robl. "But I haven't improved as much since I stopped playing online. Online, I was playing against people better than me all the time. In the live games, I'm usually the best player at the table."
It's a good problem for Robl to have, but he'll be happy when and if he can resume having the option of plying his trade via the Internet. And even though he lives in Las Vegas, where online poker will soon be up and running, the games won't be big enough for Robl and the liquidity will not be there, at least for the time being. "We need 70,000 players for liquidity," says Skip Bronson, chairman of US Digital Gaming. Formerly a right-hand man of Steve Wynn, Bronson now heads up a company that he hopes will provide a full menu of services for casinos that want to go online. "But small states will link together as they do for Powerball," Bronson adds. "Some will be part of a consortium."
But no doubt, linking those states will come with its own issues and difficulties. Even in cash-strapped California, where live poker is already widespread, legalization remains stalled in a snarl of various special interests that can't come to agreement despite the obvious upside for all parties involved. "For the states, online poker will generate more tax revenue than anything else out there," predicts Bronson. "Marijuana is a pittance compared to what online gambling can generate."
You must be logged in to post a comment.
Log In If You're Already Registered At Cigar Aficionado Online