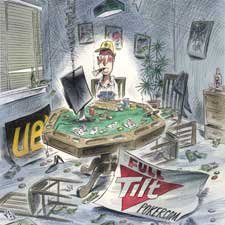 Illustration/Gary Hovland
Is the Online Poker Party Over?
Poker takes a hit as the Feds crack down on internet gambling
(continued from page 2)
Right now, online poker options for Americans range from illegal and dicey to sociable and cash-free. On the illegal front, there are a handful of rogue sites that still accept money from American players. But they are difficult to find, and collecting money out of them may prove arduous if not impossible. In terms of sociable options, the online game company Zynga attracts millions of participants who play for fun via Facebook. After vociferously denying an interest in eventually entering the for-money poker realm, Zynga recently hired Maytal Ginzburg Olsha, formerly an executive with the online poker operation 888.com, to serve as chief operating officer of new markets. More innovative is the International Federation of Poker, which offers duplicate poker (a spin on duplicate bridge) and pushes Texas hold'em as a mind-sport alongside chess, go and backgammon.
The IFP made a splash last year by putting on a live duplicate poker tournament. Dubbed the Poker Nations Cup, it was played on the London Eye and attracted well-known pros such as Greenstein, Hansen, Vanessa Selbst and David Benyamine. With a component in the offing that can be played via the Internet and will be financed through paid membership,  IFP president Peter Alson says, "We'll be giving people who are jonsing for the game online a way to play. I don't think our membership will be made up of the guys you're seeing at the final table of the World Series. But there is a component of people who think about the game very theoretically. They break it down in ways that Doyle Brunson never thought of."
Meanwhile, in a world where the intense study of theory meets life-changing money (nobody has ever dissected hands as intensely as high-stakes players in the online realm), the British pro Sam Trickett, who made his name online, and Antonio Esfandiari, who had sponsorship deals with both UltimateBet and the defunct VictoryPoker, play heads-up for a first prize of  $18.3 million at the Big One for One Drop final table. After Esfandiari takes it down with three 5s, the room explodes and he poses for pictures by draping himself over a mountain of money. On the periphery, watching the festivities unfold, stands Brian Rast, a gifted 32-year-old who made a fortune playing online under the name tasarrast. Though he antes up for the biggest live games going, won last year's prestigious Poker Player's Championship for $1.7 million and finished sixth in this event for a $600,000 profit, you still get the impression that he'd rather be home playing on his computer.
Watching his friend Esfandiari getting mobbed by well-wishers, Rast says, "Poker may be the biggest game in America and you can argue that this proves it. People want to do something in which they can use their brains and compete. You don't need to be a gifted athlete. You just need to be someone who wants to sit down, put up a sum of money and think about things. What's wrong with that?"
Michael Kaplan is a Cigar Aficionado contributing editor.
You must be logged in to post a comment.
Log In If You're Already Registered At Cigar Aficionado Online