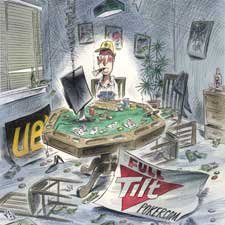 Illustration/Gary Hovland
Is the Online Poker Party Over?
Poker takes a hit as the Feds crack down on internet gambling
Poker players are notorious for telling hard-luck stories about the ace that came from out of nowhere to ransack their chips or the unlikely run of bad cards that annihilated a shot at tournament millions. For many players, the last 19 months feel like the ugly epitome of an unending bad beat. It began on April 15 of last year—a day quickly dubbed Black Friday—when online poker was officially criminalized by the United States Department of Justice. The three major sites that offered online poker in the U.S. were suddenly, unceremoniously shut down. Two of those sites—Full Tilt Poker and UltimateBet—proved to be completely insolvent and unable to pay players the money that they had on deposit. In the case of Full Tilt, this meant that players were out $150 million all told.
Soon after, a high-stakes sports bettor of my acquaintance jokingly asked me to name the players who would be relieved about the customers of Full Tilt and UltimateBet getting stiffed. I told him that I had no idea. He reeled off the monikers of several pros who had been accused of financial misdeeds and various infractions in the poker world. The implication being that the damages of their alleged capers were nothing compared to the Full Tilt debacle and that in the wake of it, their various misdeeds would be forgotten. More or less, my friend was correct about these transgressions falling by the wayside. Nobody mentions them or complains about them anymore. The bar has gotten so high that a few million dollars seems to no longer matter.
Not only did the $150 million crap-out cripple loads of individual poker players, but it also took a fortune out of the overall poker economy while America was still recovering from a nasty recession. Big games in Vegas dried up, leaving still-solvent high-stakes players commuting to the poker rooms of Macau where gambling money continues to flow freely. Many of those who didn't feel like traversing the globe to play live left the United States and set up residencies as near as Canada and as far away as Australia.
On the poker-centric bulletin board twoplustwo.com the chatter turned from strategy and gossip to rumors of once high-flying pros being suddenly broke and the feasibility of grinding online games while living in Thailand. "I was pretty sure I would leave the United States immediately [after the sites were shut down]," says Phil Galfond, an extremely successful 20-something pro who, along with his pal Tom "durrrr" Dwan, vowed to put $1 million of his own money toward paying players who had been screwed by Full Tilt, even though he had absolutely nothing to do with the site. Now splitting his time between luxury apartments in Vancouver, Las Vegas and New York City, he adds, "For me it's a lot more profitable to play online, and live poker takes a real toll on you. You need to look out for yourself a lot more. Online, it's just playing the game."
Even with available options for players who could take the financial beating of Full Tilt, the game, as it came to be played at the World Series, has been largely sapped of its financial potential. As the Series unfolded this past summer, mourned are the days when you could be paid six-figure sums for wearing patches bearing poker-site logos on TV. One afternoon I sit alongside Brian Balsbaugh, the poker agent of choice for manageable pros, as he watches his prize client Daniel Negreanu struggle through a tough Series field. Between hands, he tells me, "After I heard that the sites had shut down, I told my wife that everything we worked for was now over. I literally was crying."
Saved by European clients and a smattering of Americans who retained their deals on PokerStars (which still thrives outside of the U.S.), Balsbaugh has pretty much landed on his feet. But, clearly, things are not the way they used to be. New sponsorship deals, of any size, have pretty much gone out the window for American pros. All the poker that we loved watching on TV got kyboshed ever since the sites ceased bankrolling the programs. Almost overnight, the profile of the game plummeted. For young guns who saw themselves with no good reason to be untrusting, a certain amount of innocence vaporized.
Call them naïve but some of the game's craftiest wiz kids kept small fortunes in poker money on the sites. When Full Tilt went belly up, the starkest victim may have been Daniel Cates, a 23-year-old savant who played under the name Jungleman12. He had millions of dollars deposited. It was his life savings, all earned by beating the nosebleed games on Tilt. Prior to the start of the Series, he understates, "Losing out on that money readjusted my view a little bit. Now I try to keep things in perspective and not be tilted about what happened." He hesitates for a beat, then adds, "Having money on a poker site is not the same as having it in a bank."
In light of all that, I experience surprise and skepticism when it is announced that there will be a $1 million buy-in tournament taking place toward the end of this past summer's World Series of Poker. More surprising is the fact that the event, dubbed the Big One for One Drop, quickly sells out with 48 players buying in. It's as if they can't get their money up quickly enough and shut-out players are eagerly waiting in the wings.
One high-rolling pro, Gus Hansen, gains entry only by purchasing a seat from a satellite winner. When he busts out early, Hansen shrugs it off as if he has dropped a few dollars in a casual home game. "I just played the worst poker of my life," he mutters through a brittle smile. Never mind that investors back most of the pros or that the wealthy businessmen are there for kicks and to help out a good cause ($111,111 of each entry fee goes to Cirque du Soleil founder Guy Laliberté's pet charity One Drop, which strives to provide clean water for people around the world), this $48 million splurge seems to say something positive about the game's enduring vitality and perception.
Big money aside, the most shocking moment of the tournament comes for me personally when a well-connected friend sidles up to me as the players compete at a final table. "Can you take off your journalist's hat for a minute?" he asks. "I need to tell you something important, but you can't write about it and you can't tell anyone." Okay. "PokerStars [the very solvent online poker company] is going to buy Full Tilt." I quickly inquire, in a too-loud voice, if that means that the players will get paid back. My friend shushes me and briskly walks away.
You must be logged in to post a comment.
Log In If You're Already Registered At Cigar Aficionado Online