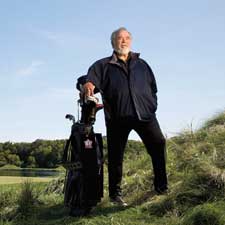 Herb Kohler, the chairman of the Kohler Company, on the Blackwolf Run course at the American Club in Wisconsin.
A Golf Fanatic
Herb Kohler has turned his passion for golf into a major business from Wisconsin to St Andrews
(continued from page 5)
"If there was a true golf fanatic, Herb is one of those people," says Friedlander. "He takes that passion for the game to the nth degree to create these properties at Kohler and in St Andrews . . . He wants to know things about all the operations and what the people are doing. He probably called me four, five times a week to discuss something, whether it was something about his courses or something he saw somewhere else that could be applied to his courses."
Such personal involvement could have a downside. "When you work for him, you needed to be in touch with his vision," Friedlander says. "And he has tremendous vision with a lot of details. He's not vague about things . . . It was fun to travel with him at times, and sometimes not so fun. Herb has no off switch. No matter whether you were playing golf, eating dinner, in the clubhouse after a round, he was always asking you to evaluate things. The only time you were off is when he went to sleep on the plane."
When Kohler hired Barry Deach from the PGA of America to be his tournament director, Deach knew there would be challenges. "You are on call all the time," he said. "He has the unique ability to hone in on the simplest of details and the most important of details and get the  right decision made. If you have 10 hours to think about something and he has 10 minutes and he outthinks you, you will have an issue. People who work for him have to like being challenged."
That isn't to say that Kohler doesn't enjoy pleasures that are directly connected to the business world. He is a breeder of Morgan horses and drives teams of them in competition. He loves fine food and wine. He enjoys cigars, though says he doesn't smoke a lot.
"It's not a regular diet," he says. "I like the Partagás 8-9-8. I probably smoke five a week. I remember vividly that my father would have an unlit one in his mouth. He was told not to smoke, so he would walk around with one between his teeth all day and eventually it would fall down to a right angle. I enjoy one after a long day."
So would that mean he has a smoking room in his house?
"No, no, no, no, my lovely bride would not have anything to do with me if I did something like that," he says with yet another chuckle.
Nathaniel Crosby, the 1981 U.S. Amateur champion who has become of friend of Kohler's, sums up the man this way:
"He has an affable personality, so likeable. He's the perfect guy to cultivate relationships. He's smart and charismatic. He treats me at eye level. He's doesn't treat me like I have this, you have that. "He just loves life, loves to be teased, loves a small wager.
Herb loves to collect friends who are meaningful and eclectic.
Herb is very adept, I think, at identifying people who are trying to suck up to him. He has terrific instincts for people.
It's very clear the guy is about having fun and enjoying life."

Jeff Williams is a contributing editor of Cigar Aficionado.
You must be logged in to post a comment.
Log In If You're Already Registered At Cigar Aficionado Online