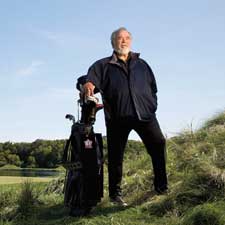 Herb Kohler, the chairman of the Kohler Company, on the Blackwolf Run course at the American Club in Wisconsin.
A Golf Fanatic
Herb Kohler has turned his passion for golf into a major business from Wisconsin to St Andrews
(continued from page 4)
"In August, we had the PGA Championship [at Whistling Straits]," he says. "There was an American who lived in Paris visiting his relatives in Chicago. He had an extra day and he drove up here on Wednesday. He toured Whistling Straits, went through our hotel, drove back to Chicago and flew back to Paris. A couple of days later he sent me an e-mail. I didn't know this person. The upshot is that he was a member of a management buyout group that was trying to buy the Old Course Hotel from a Japanese owner. They had been working at it for about nine months and still hadn't gathered enough equity. So he asked if I would be interested.
"I had been there a half dozen times, so I knew about it. I knew its level of quality. And it happened it matched closely what we were doing here at the American Club. I told him when we participate in something, we have to have controlling interest because we maintain a certain level of quality in everything we do. I thought that would kill it. They still invited us in. We negotiated with the managing director and 40 days later, from the day I got that first e-mail, we owned the hotel.
It was at St Andrews last year that Kohler scored his first hole in one, on the 11th of the Old Course. But an event that morning not only caused him to nearly miss his tee time, it put his life in danger. He had noticed that a sign across the road from the Dukes Course was askew so he parked at the entrance and walked across the street to fix it.
"There was this hedge right behind it," he recounted. "I took a step toward the hedge to get a better angle to turn the sign and fell into a five-foot deep trench with about two feet of water in it. I had put my hand out to reduce the impact and sprained my left wrist. Here I am lying in this ditch and nobody knew where I was. Nobody could see me.
"The walls of the ditch were slick with mud. I was about to drown in there. It was all I could do to keep my nose up out of the water. I finally got an elbow under me, to lift myself up some, then got a knee under me and was able to reach up and grab hold of some grasses, plants that were overhanging, and pull myself up. I was completed covered in mud. And I was an hour away from my tee time.
"When I get to the hotel and walk through the lobby, no one recognizes me. When I got into the room I walked straight into the shower without taking any of my clothes off. I got to the course five minutes before my tee time and I wasn't even sure I could play with the sprained wrist.
"We got to the 11th hole and it was very dark, overcast. I said 'Kohler, if you have one shot in your body, this has got to be it.' The pin was directly behind the right bunker. I used a six iron, made myself stay down the line with the swing, and I didn't yank it left. It hit about five yards short of the green, it rolled over a large hummock and disappeared, then it suddenly appeared again moving to the right and kerplunk, right in the hole."
In his foursome was PGA Tour commissioner Tim Finchem, who had a painting done of the scene to present to Kohler. "It's a hole where you have all these people crossing and the group that was behind us came up on the tee and saw it," says Finchem. "The whole scene was quite striking."
Finchem, who has dealt with corporate America at the highest levels, finds Kohler  unique. "You can have a meeting and he appears to be asleep for all of it, then he opens his eyes and remembers everything and asks you a tough question," says Finchem.
Everyone who works for Kohler will say he is a taskmaster, one driven to make everything his company does of high quality and best value. Steve Friedlander worked as director of golf at Kohler until he moved on to Pelican Hill in California. His eight-year relationship with Kohler was memorable.
You must be logged in to post a comment.
Log In If You're Already Registered At Cigar Aficionado Online