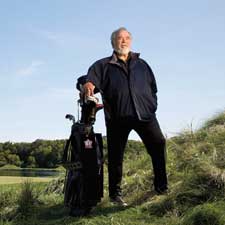 Herb Kohler, the chairman of the Kohler Company, on the Blackwolf Run course at the American Club in Wisconsin.
A Golf Fanatic
Herb Kohler has turned his passion for golf into a major business from Wisconsin to St Andrews
(continued from page 3)
It wouldn't be until after he opened the first of his golf courses in 1988 that Kohler was bitten by the golf bug. In doing so, he also got bitten by the betting bug, playing for small stakes but negotiating like he was buying another business.
He recently retired after winning the Gnarly Balls title for an eighth time, a contest between other Kohler Company employees and local residents. The Gnarly Balls isn't about scores, it's about the money you win from betting. And the prize is a pair of rusted casting balls from a Kohler foundry connected by a rusting chain attached to a piece of Lake Michigan driftwood. The competition is so named because it takes place at the beginning and end of the Wisconsin golf season, in the gnarliest weather. Herb Kohler likes a challenge, and blustery winds, snow, sleet and the occasionally frozen fairway.
Kohler will say that his betting scheme is pretty simple. "I usually play a $10 Nassau, $2 skins and Honest John," says Kohler, obscuring all the haggling over strokes given and received. It's often the only topic at breakfast.
"I keep track of all the rounds and all the bets over time," says Cheney. "He's won a net $5,226 since this has all started. I've won $5,108. We play for a lot more playing gin on the plane traveling to play golf than we do in the actual golf."
"Herb is a keen, voracious negotiator of a bet," says Orender. "Negotiating a bet with myself and Mori, it's really a battle. He'd rather beat Mori for 10 bucks than buy another company. When they first met, Herb was probably a solid 15 handicap and Mori was in the high 20s. Now because Herb is dealing with some health issues [sore hip and foot], Mori is giving him shots. They will go through this big argument deciding on strokes before the round, and they keep arguing about it for half the round. If Mori got two dollars off of Herb, it would make him happy. They will spend 25 grand to take a private plane somewhere to play golf for five bucks."
For Hosseini, a very successful Florida developer who is president of ICI Homes, the relationship with Kohler is about two good buddies having a blast, whether it's on the private jet or at a street kiosk. "His humility, down-to-earth, one-of-the-guys type attitude is what attracted me to him," says Hosseini. "That made us become good friends . . . We are happy to get a hot dog on the street, or eat in the finest French restaurant in the country. As long as we have a good time, that's what it's all about."
In a hard hat, reflective vest and protective gloves, Kohler led a party that included Hosseini, Orender, Nathaniel Crosby (son of Bing) and others on a tour of his Hamilton Grand project, where condominiums will be on offer both freehold and leasehold. With his wife Natalie they looked closely at all the details. Standing on the curb outside he made a point to the architect and construction people that the outside lighting of the building should match that of the Royal and Ancient Clubhouse of St Andrews on the other side of the street, just a flip wedge away. "The lighting needs to be of equal value between us and the R&A, even if we need to pay for their lighting," says Kohler, who is an member of the R&A.
This is a project close to his heart. "It's a true labor of love if there ever was one," says Kohler, who will nonetheless be looking to turn a significant profit on the iconic structure.
As part of the trip to Scotland, Kohler made a last-minute decision to check out Donald Trump's new course near Aberdeen. His group played nine holes and while they all considered it a fine piece of work by architect Martin Hawtree, Kohler would only proffer "I think there was too much bulldozer in the fairways. They are a little flat."
His acquisition of the Old Course Hotel and Dukes Course in 2004 came by, what seems in hindsight, divine intervention. It was a curious thing.
You must be logged in to post a comment.
Log In If You're Already Registered At Cigar Aficionado Online