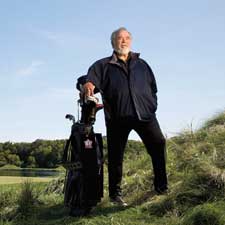 Herb Kohler, the chairman of the Kohler Company, on the Blackwolf Run course at the American Club in Wisconsin.
A Golf Fanatic
Herb Kohler has turned his passion for golf into a major business from Wisconsin to St Andrews
(continued from page 2)
"At the end of my freshman year the dean of my class called me in and said your grades are good but I don't see a sense of purpose," Kohler says. "I said 'Yeah, I don't either.' He said 'If I you want to take some time off, fulfill your military obligation and find something you are  passionate about, you could do that and your grades are good enough that you could get back in.'
"So I did a six-month stint in the Army at Fort Leonard Wood and Fort Chaffee. Then I went to Switzerland and lived with a family and studied math and physics in high German. All the lectures and the textbooks were in German. It was a struggle, but I got through it."
When he returned to the states he decided he might like to be an actor so he went to Knox College in Galesburg, Illinois to major in theater.
"I became a poet, I edited a wild political newspaper on campus," he says. "I was a pre-hippie, at the forefront of the hippie movement."
At Knox College, he auditioned for a play and ended up with more than a role. "The upshot of my theatrical career is that I ran off with the director and married her six months later," Kohler says, chuckling.
That would be his first wife Linda, with whom he would have four children. Once married,  he decided that poetry, political newspaper editing and acting weren't going to pay the bills. He had to rethink what he had said to his father.
"I had told my father I would never take another penny of his money, the company money," says Kohler. "Then I thought I had a wife now, I had better get my act together, so I went back to Yale and got a degree in business administration."
That still didn't bring him back to Kohler, not immediately.
"I was working somewhere else when my father called and asked me to come back to work at the company," he says. "I said, 'Are you kidding? I didn't spend the last three years of my life preparing to work for you.' But I thought about it, particularly the potential I thought the company had. So three days later I called him and said I'll come back, but under no circumstances are you to have anything to do with my career. I want to go through all the normal channels, be subject to the same scrutiny that anyone would get. And he promised he would stay out of the way."
So the scion of Herbert Kohler Sr., who had done laboring jobs in the company as a teenager, returned to Kohler and worked as research and development technician, a schedule coordinator, a warehouse supervisor.  "Others had the responsibility for promoting me," he says.
Two years later his father died. After discussions with company executives, he became vice president of operations. Two years later he became executive vice president. In 1972 he became chairman and CEO.
You must be logged in to post a comment.
Log In If You're Already Registered At Cigar Aficionado Online