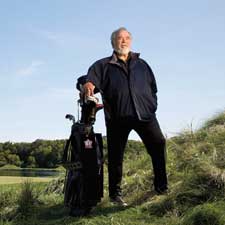 Herb Kohler, the chairman of the Kohler Company, on the Blackwolf Run course at the American Club in Wisconsin.
A Golf Fanatic
Herb Kohler has turned his passion for golf into a major business from Wisconsin to St Andrews
(continued from page 1)
For decades golf was a big part of the American corporate milieu, but not for Herb Kohler. His focus was on expanding the Kohler brand, in making it a household name for something other than commodes, and entering into related businesses. All this would be done with a creative flair, creativity being at the forefront of Kohler's business and personal philosophies. He had this idea about turning the old employee dormitory, the building that housed artisans his grandfather had brought over from Europe, into a luxury hotel, the American Club. It was a decision that had direct bearing into Herb Kohler's foray into golf.
"My whole golf experience took place without any vision at all," says Kohler. "I had an old bag that was my father's with some wooden shafted clubs and I might play a couple of times a year. It was the hotel, the American Club that got me into it. I had a vision for the American Club as a high-quality resort and, of course ,we could show off our products there. But it was the guests who questioned why there wasn't a high-quality golf course to go with it. We opened the hotel in 1981.
"We had a vice president of business development who was a 3 handicapper and he was my guiding light. Once I got involved in building a course, I figured I had better find out what the game was about."
After a characteristically thorough screening process, Kohler chose Pete Dye as his golf course architect to build the Blackwolf Run project. Dye's knowledge of the game impressed Kohler, as did his views on the aesthetics of a golf course. Kohler,
after careful consideration, was never afraid to take a chance and gave Dye as much of a free reign as he was ever likely to give anyone. Dye's courses are challenging, and Jeff Cheney thinks he knows why that appealed to Kohler. Cheney, the Kohler Company's CFO and a 3 handicap, is one of Kohler's frequent playing partners.
"When it comes to his golf courses, [Herb] says that people like to ride a roller coaster, ride something that scares them a bit," says Cheney. "These courses aren't easy, but they are playable for most people, and memorable, which is what Herb wants."
"Dad and Herb are renaissance men with a fantastic eye for design detail," says Perry Dye, Pete's eldest son and a designer himself. "They've had their run-ins over things, of course, but they always come to an agreement on what's the best thing for a course or a tournament course. They are great friends who are only separated by a couple of billion dollars."
Dye went on to design four courses for Kohler, who from the outset wanted them to host major championships. "If we were getting involved, we had to get involved in a big way," says Kohler. "It's the way we do things."
Blackwolf Run has been the site of two U.S. Women's Opens and two PGA Tour events. Whistling Straits has hosted two PGA Championships and a U.S. Senior Open. The Straits course will host the 2015 PGA and the 2020 Ryder Cup matches. He is particularly proud of the fact that Old Course Hotel was the host hotel of the 2010 British Open, and a month later his American Club was the host hotel of the PGA Championship.
"We have the ability to manage hotels and events to the highest standard. The highest standard," Kohler says with emphasis. "And when we do that within the brightest spotlight on that championship, which in turn that shines the spotlight on all our businesses directly and indirectly. When we put our brand out front like that, it has a significant impact over time, without question."
For someone who rebelled as a youth, who was intent at one point not to have anything to do with his family company, the long journey to the chairman's office preceded the smallest seed of interest in the game. He virtually never played and only did so with his father's wooden-shafted clubs. He attended the toney Choate private school in Wallingford, Connecticut, then went to Yale where he was rather unsure of what he wanted from an Ivy League education.
You must be logged in to post a comment.
Log In If You're Already Registered At Cigar Aficionado Online