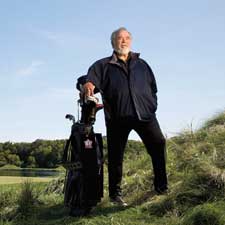 Herb Kohler, the chairman of the Kohler Company, on the Blackwolf Run course at the American Club in Wisconsin.
A Golf Fanatic
Herb Kohler has turned his passion for golf into a major business from Wisconsin to St Andrews
On the 18th green of the Old Course at St Andrews on a lovely July evening, Herb Kohler watches his close friend Mori Hosseini drop a 30-foot putt for all the money.
"Take that, Herb Kohler!" Hosseini shouts.
Kohler gives him a look, then starts to laugh that deep throaty laugh of his. The onlookers gathered at the fence behind the green—the continual gallery at the home of golf—applaud vigorously and Hosseini acknowledges them.
In that little tableau, there is much to be said about Herb V. Kohler, his passion for golf, his passion for life and even his business. What could be better than playing the game in St Andrews, playing with good friends and surrounding yourself with successful aspects of your business enterprise?
"He's a very interesting, successful, creative and complicated guy," says M.G. Orender, part of that day's foursome, a close friend and a former president of the PGA of America. "He can have a somewhat gruff way about him, but he has a huge heart.
In the short time he's been involved in golf, he's had a huge impact, not just putting on major championships, but serving on boards and donating time and money. He's made some substantial financial contributions. He's been involved in amateur golf, pro golf, the superintendents, First Tee, environmental stuff. He does it quietly. He does it for the love of the game." It was a love that was a longtime coming, a love that, like the rest of his life, he embraces fully. For Kohler, there is no other way to live.
As chairman of the Kohler Company, the family business established by his grandfather in 1873, Kohler has built a multi-billion-dollar enterprise beyond the plumbing products that established the business. Kohler is into kitchens, furniture, small engines and generators, stone and tile. Kohler products are produced on four continents and have found their way into millions of American homes and businesses, and the Kohler name might be the first one you encounter each morning.
Then, there is golf. The Kohler Company owns the Blackwolf Run and Whistling Straits complexes in the Kohler, Wisconsin area, a family town established by his grandfather.
When Kohler got a chance to get a foothold in St Andrews, Scotland, a place he dearly loves, he bought the Old Course Hotel, just outside the ropes of the 17th hole of the Old Course, in 2004. That property includes the Dukes Course just outside of town. Then he took over a failing condominium project at Hamilton Hall, now called Hamilton Grand, the red-stone building right across Golf Place from the 18th green of the Old Course. "They are both iconic," says Kohler, who is a member of the R&A. "There are no two locations in golf that are comparable."
It is through golf that Kohler expanded his vast personal vista. "I discovered the integrity of the game, the physical aspects of it, the mental aspects," Kohler says, tucking into his eggs and bacon in a private room of his Old Course Hotel. "I needed something to wrench me out of my work, and golf turned out to be it. There were also high values to it, something  that is at the core of our company. There is self discipline required, integrity required. Getting involved has led to some of my best friendships I have today."
You must be logged in to post a comment.
Log In If You're Already Registered At Cigar Aficionado Online